Celebrate the arrival of spring and summer with these exciting earring designs created by our fantastic Artbeads.com designers. Each piece is full of bright colors and bold design ideas, and comes with step-by-step instructions that you can follow exactly or use simply for inspiration.
Aurelia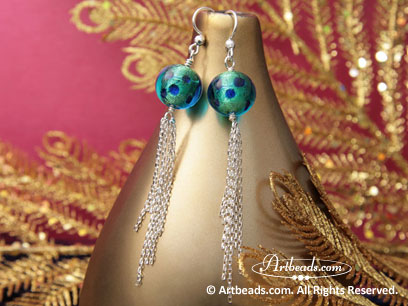 Aurelia is another name for the moon jelly, a gorgeous creature that rides the ocean currents. These earrings live up to their name, as their blue-green color and dangling silver strands are reminiscent of this unique animal. They are easy enough for a beginner and can be finished in less than thirty minutes.
Jonas Flower


These long, dangling earrings have a playful look created by combining lustrous purple beads with sparkling red Swarovski crystals. Although these earrings represent flowers, they aren't just for summer. The rich colors in this design allow you to wear them all year! Try creating these lovely earrings for a beginning beaders' party or for a quick project for yourself.
Martinique Sunset


These Martinique Sunset earrings use a brilliant cubic zirconia drop and a glittering silver ball to create a classy look. Once you finish these earrings, you can wear them with bright colors for spring and summer or dark colors for fall and winter. Best of all, these versatile earrings can be made in just minutes!