Be sure to check out these cute photos of dogs dressed up in Halloween costumes. Our designers at the Learning Center worked to create each costume for a dog fashion video. You can capitalize on what they learned and follow their instructions to create a costume for your own dog. Many of these costumes were made from children's clothes, so they can be modified for kids as well. These costume ideas include step-by-step instructions, along with complete product lists and all the tools you'll need.
Halen's Rock Star Halloween Costume


Transform your pet into a rock star this Halloween with this fun costume featuring a detachable guitar that connects to your pet's harness. An amiable boxer named Halen modeled this costume for our Halloween pet fashion show.
Maggie's Beautiful Bride Halloween Costume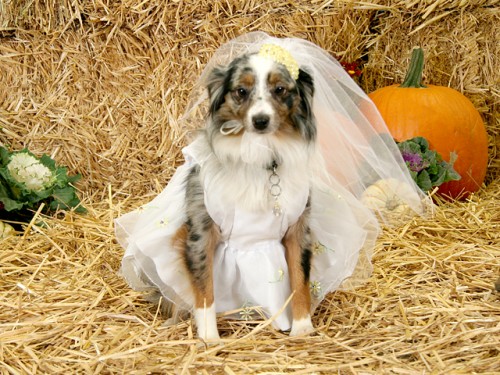 A dainty blue merle Australian shepherd named Maggie modeled this "Beautiful Bride" costume for our Halloween pet fashion show. Maggie looked radiant for the show as her veil and dress, embellished with Swarovski Elements rhinestones, sparkled brilliantly with her every movement.
Cooper's Swashbuckling Pirate Halloween Costume


This adorable pirate costume will transform your pet into a swashbuckling pirate, whether you are planning a photo shoot or a special event like a Halloween party. Cooper was a wonderful sport and let us dress him in the entire costume.
Fiona's Pop Diva Halloween Costume


This Pop Diva costume was designed to be worn by an adorable shih tzu named Fiona for Artbeads.com's Halloween pet fashion show. Fiona's costume was inspired by a denim outfit that pop star Lady Gaga sported onstage for a performance but feel free to take inspiration from your favorite pop diva.
Minnie's Fairytale Princess Costume


Minnie is a French bulldog whose owners treat her like a princess, so it's only fitting that she was bedecked in this fairytale princess costume for our photo shoot. Her dress is entirely handmade, making it a fun project for someone with a bit of sewing knowledge.
Cloey's Queen Elizabeth 1st Halloween Costume


Include your furry family member in the Halloween festivities this year by constructing a fun costume for your pet. This "Queen Elizabeth I" costume was designed for a chihuahua-dachshund named Cloey for our pet Halloween costume fashion show.