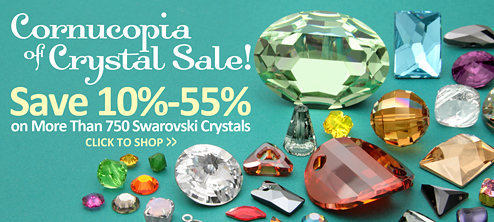 Save 10%-55% on more than 750 of our most popular Swarovski items during our Cornucopia of Crystal sale. This fantastic sale features products ranging from Hotfix flatbacks and rivoli crystals to sparkling pendants and beads. Choose from the variety available to add sparkle and brilliance to your designs. Hurry! This sale ends on Thursday, November 17, 2010.
Look at the Learning Center ideas below to get fun ideas for using some of the products in this sale.

A Swarovski 5810 12mm Round Pearl in Light Blue acts as one of the focals in this cool-toned bridesmaid's bracelet.

This sparkling necklace design features a Swarovski 6012 15.5mm Flat Briolette in Aquamarine as the centerpiece that is flanked by two Swarovski 6012 11mm Flat Briolettes in Light Rose.
A sparkling Swarovski 5600 6mm Diagonal Faceted Cube adds a touch of fuchsia to these fun dangling earrings.