I made it home. I have had some time to catch up on sleep and emails. I was only in Tucson for 4 days and I was exhausted. Finally, I am able to write about the last full day. It was so busy that I have to make two entries about it!
The first place I went was back to the Swarovski showroom to crash in on Laura Timmons' class! It was a surprise for her and her students – I loaded them with Artbeads t-shirts, gift cards, and polishing cloths. They were working on a beautiful wire crochet necklace with SWAROVSKI ELEMENTS! Next time I would love to take a class, it looked like a lot of fun!
I quickly ran off to the To Bead True Blue show to talk to some vendors and friends. The weather was getting better; I didn't even have to wear my winter coat! I didn't have a lot of time and there was so much to look at (that seemed to be the trend of the week). I registered for the show and went straight to the Tierracast® showroom.
This was one of my favorites to visit because it was so interactive! They had this fun vintage dress up photo booth to go along with their new theme of "What was old is new again." Here I am with the friendly Tierracast folks all dressed up.
They also had their own Make and Take! I made a Beauty and the Beast resin pendant using a heart frame in the black finish. We used images printed out on paper, a heart hole punch, and Magic-Glos™. They had ribbons, findings, and tools for us to finish a piece! Also, when the clock rang on the hour, everyone in the room received a goodie bag!
Then I visited with Nunn Design™ and got to see all of the new items and trends! There were many inspiring designs and creative ways to use their products. I adored it all and I'm looking forward to creating using them! Check out the new Nunn Design items.
After that, I visited with Fernando Dasilva at the Beadalon booth and he showed me his beautiful new book of inspiring new designs called Modern Expressions. His jewelry designs are gorgeous and he is featured in the February issue of Harper's Bazaar! I enjoyed chatting with him and look out for more from him in the near future on our Facebook page.
I stopped by the Kabela Design booth to check out their new products! All I can say is "Wow!" and I think everyone is going to love it. I have a weakness for antiques and vintage items so these sparked some ideas in me.
We have some of these lovely beads in our Vintage Beads section already. Get them while you can, they are no longer in production so we will not get more.
I also stopped by Grace Lampwork Beads and chatted with other friends before leaving to the next show.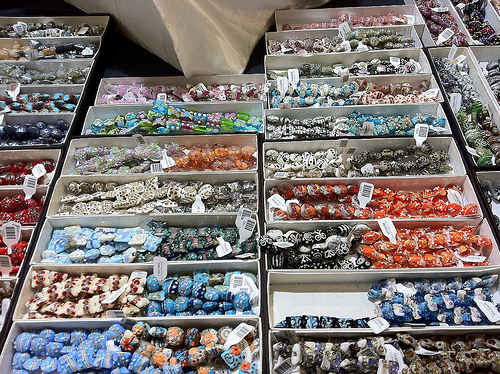 Check back soon for more about the rest of the day!
-Reyna