In three days spring is officially here, so this is my last opportunity to show you some beautiful winter designs created by our Design Partners! Take some time to see what everyone has been working on these winter months. And who knows? Perhaps one of the designs will inspire you as your thoughts turn to spring. I've posted some of my favorites on the blog, but there are many more amazing pieces that you can view in the Artbeads Facebook Galleries!
New designs are up in the Winter Enchantment Gallery II, and you can view the rest in Winter Enchantment Gallery I.

Winter Necklace created by Lisa of AlteRity
Lisa designed this necklace with glistening ice in mind and added touches of pastel color to hint at the beauty that comes with the thaw. I love her color choices and the vintage style of the clasp at the front of the necklace.

Hill Tribe Bracelet created by Genea of Genea Beads

This beautiful design by Genea uses a Hill Tribe silver bead frame and deep blue beads to complement a soldered charm that she made herself. All the elements in this design work well together to create a solid piece.

Fairy Necklace created by Amy of Sprite Creations
Amy tried something unique with this design and painted the clasp and fairy's wings with colored resin. I love the way this necklace looks as a result. Those elements add just the right touch of color.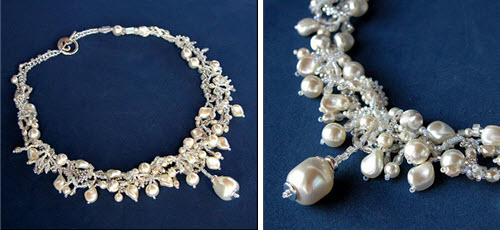 Enchantment Wedding Necklace created by Linda of BeadsForever
Linda created this intricate design as a wedding necklace, and the result of her efforts is definitely something a bride would love. The combination of seed beads and pearls is stunning!

Indigo Glacier Bracelet created by Kassie of The Beading Butterfly
This bracelet design is Kassie's first foray into using Tila beads. The zig-zag pattern she created with them is beautiful and fun. It has good contrast, as the white Tila beads allow the vibrant blue beads to stand out!