Today we're exploring the history of Czech fire-polished glass beads. We've touched on the history of Czech glass beads in the past, which you can read in our previous blog post, but today focuses solely on the brightly brilliant fire-polished ones. These cool glass beads get their name from the hot process they go through to become shiny. Let's start from the beginning.
The cottage industry of glass bead making in the Czech Republic dates back as early as the 1500s when hot, softened glass was pressed into special molds to create unique shapes. These produced the pressed Czech glass beads we know today. Our favorite faceted friends were produced by re-firing each bead to give it that extra sparkle.
The process fire-polished beads go through is truly amazing. Melted glass is molded into a specific shape (round, roundel,etc.) and then re-fired to give them their signature shimmer. This re-heat polish creates the sparkling crackles inside each bead. It sounds simple enough, but takes a lot of dedication and skilled hands to produce such lovely little beads. The size of the bead determines the intensity of the color as well. Remember, because these beads are made in small batches, the dye color could be slightly different from one batch of beads to the next. While fire-polished beads are offered in a lovely variety of colors, they also come in a number of different finishes. For example, aluminum and tin are used to give these beads a silver finish.
Don't be afraid to play with fire…polished beads! They make great spacers in bracelets and necklaces and come in a variety of colors and finishes. Best of all, you can shop the way you want: by the piece, by the strand or by the pack! Not sure where to start? Here are a few ideas from our Learning Center that use fire-polished beads to help spark your creativity.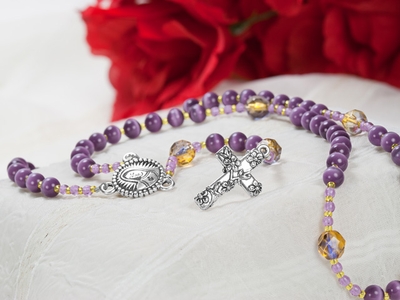 -Marissa
Source: Beadingtimes.com.