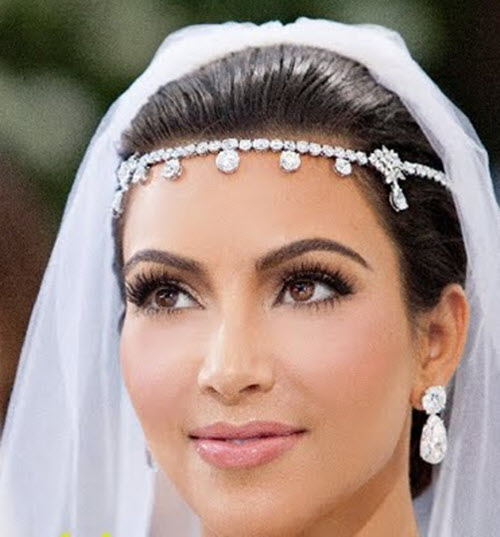 Photo Source: The Boudoir.
America's hottest wedding this summer arrived at the tail end of the season, but definitely helped summer end with a bang. Kim Kardashian's diamond-encrusted wardrobe on her wedding day was nothing short of fabulous. Although most brides may not be able to afford her 20.5-karat diamond ring or her $5 million earrings, you can get het look for less with the help of great Artbeads products! Just get ready to play with lots of sparkling Swarovski crystals and glue.
The most eye-catching feature besides her dress (es) was Kim's lovely headpiece. Designer Lorraine Schwartz helped create the 65-karat piece, inspired by another jewelry style icon: Audrey Hepburn. You can replicate this look and still be stunning with some simple techniques. The beauty of Kim's headpiece is its delicacy, so create an imitation that's just as elegant using jewelry wire and some Crystal SWAROVSKI ELEMENTS.
If you want a full, wrap-around headpiece, measure the size of your head by wrapping a string around at the same position you would like your headpiece to rest. Add about 3 inches to allot for adding a clasp or crimp to the end. We recommend using ZambaPro™ 49.019 jewelry wire or .019 SoftFlex® wire for more flexibility when stringing your jewels. Do not use any kind of elastic material, because you want your stones to fit tightly. Cut two strands of wire and start stringing! To create the tiny diamonds laced across the band, use our Swarovski 17704 XILION settings in Crystal with either a gold-plated or silver-plated settings. Use enough to fit the entire length of your wire. Add about five dangling drops to the front of your design to create the gorgeous diamond drops like in Kim's. Try putting your own twist on the design by using Swarovski pear-shaped pearls or swap them for XILION mini pear pendants in Crystal. To make the incredible cluster of diamonds on either side of the dangles, you could use a filigree flower and connect it to your wire with either a small jump ring or crimp tube. For .019 jewelry wire, a 2x2mm crimp tube would work best.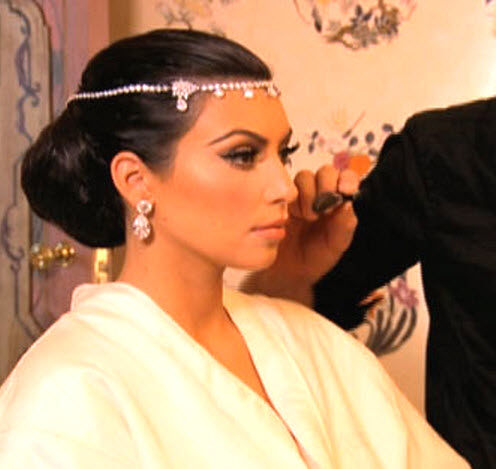 Photo Source: eonline.com.
If you prefer to create a headpiece that only wraps halfway around the head, you can close your ends with a crimp tube and crimp bead, and then delicately glue it to a couple of hair combs that would rest on your head. Your lovely veil and hair style could cover up the combs to give the illusion of a full wrap! To end a full head wrap, close your ends with a crimp tube or very small clasp. Remember, you want your headpiece to fit nice and snug around your head. Find out which way works best for you.
In need of some more wedding day inspiration? Head on over to our Learning Center and read about the wedding fashion trends to match your season. You can read free instructions for making jewelry and also great bridal craft ideas to make your day special. Every bride should feel gorgeous on her wedding day, so make yours that much more elaborate with homemade detail!
-Marissa