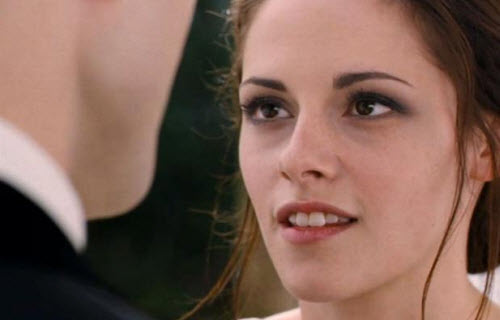 Photo Source: The Vancouver Sun.
We're going to highlight Twilight by bringing you some cool ideas inspired by the upcoming movie. This film includes the epic wedding scene, where Bella and Edward finally profess their undying (…or undead…) love for one another. Much like our anticipation and excitement over Kate Middleton's Royal Wedding jewelry, thousands of fans can't wait to discover what Bella will wear to match her bridal gown. Our designers were so excited about this movie's release that they created a replica of her ring and head piece, and we're going to share it with you! We took advantage of our Pacific Northwest location to give our pieces a real Twilight wedding feel.

Photo Source: style.mtv.com.
We replicated Bella's headpiece using a Kabela filigree link, Gilders Paste and some Swarovski flatback rhinestones. Then, we glued a simple barrette clip to the back of the filigree. You could attach a piece of white tulle and attach it to the headpiece for a veil and walk down the aisle like a vampire princess!

Photo Source: AceShowbiz.com.
Making Bella's ring was just as quick and easy as her head piece! We used a silver-plated blank ring, filled it with white DeCoRé clay and decorated it with Crystal Swarovski flatbacks. This ring will sparkle just as bright as Bella's!
Check out more Twilight-themed jewelry and craft ideas available in our Learning Center, including free step-by-step instructions. You can get ready for the premiere in style!
-Marissa