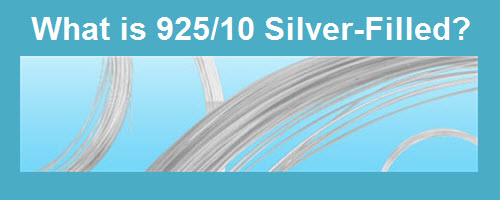 Now you can create cool jewelry designs that have a professional polish with 925/10 silver-filled jewelry wire! You may be wondering what 925/10 silver-filled is, and why it's so special. Let's take a look.
Much like gold-filled, 925/10 silver-filled is sterling silver that is mechanically bonded to a base metal like brass or copper. This is a physical bonding, rather than an electroplating bond, which is much weaker. In order for a product to be considered silver-filled, it must have at least 1/20 of its weight in silver. This equals out to 5% silver. So, when you read that a material is .925/20 or 925/20, this means the material meets the minimum standards for being silver-filled by containing 5% silver.
Our new line of silver-filled wire is 925/10, meaning ours contains 10% sterling silver or double the amount of many other silver-filled wires. This means you get a higher quality product to create with, giving you jewelry that is sturdy and yet has the delicate look and feel of sterling silver. Start designing professional looking jewelry with just the right amount of shine with our incredible new line! Check it out by shopping for 925/10 silver-filled wire available now!
-Marissa