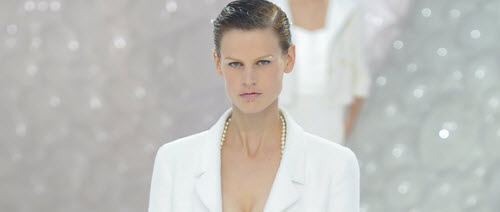 Pearls, the quintessential symbol of classic beauty, are here to stay! This elegant treasure from the sea was prominent in the 2012 Chanel Spring/Summer Fashion Show in jewelry, clothing and hair accessories.
The theme of the show was "pearls from the sea," incorporating stark white coral props and a sandy white runway. Instead of belts, the designer strung pearls across the models.
The idea behind this show was to showcase beauty that has been shaped by the ocean floor, being perfected for millions of years and always evolving for modern times.
You too can follow this fashionable idea with either freshwater pearls or Swarovski crystal pearls, both of which offer elegant shine and unlimited sophistication.
Our Learning Center team is already ahead of the pearl game! Jewelry Designer Teri made these hair accessories for another Artbeads coworker to wear at her son's wedding. The pieces in the first image are simply Swarovski pearls wire wrapped onto plain bobbi pins. When they're worn in hair, you won't even see the wire! The side comb in the second image is just a glimpse of how elaborate your pearl projects can be! Browse our collection of pearl beads for a variety of colors and shapes to create your own style for the end of summer.
-Marissa
Photo Sources: The Guardian and Style.com.