Every woman wants to shine, and every woman loves shoes. Strassing combines these two loves into the perfect pair of pumps. The term strass is traditionally a synonym for rhinestone, named after Georg Friedrich Strass who invented the flint glass as an alternative to gemstones. This technique is simply put—not simply achieved—as the act of covering your shoes in Swarovski flatbacks. Some designers stick with just the heel while others go all out in a crystal-encrusted shoe surface.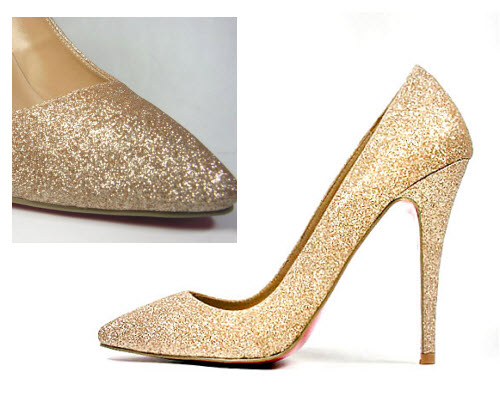 Photo Source: cshoeslbh.com
The trend of dialing up the dazzle on expensive shoes exploded after designer Christian Louboutin fashioned a pair of fierce high heels for Carrie Bradshaw in Sex and the City 2, a fabulous off-white pair covered in glistening gold sprinkle. If you're willing to shell out more than one pretty penny you can get the exact same shoe, or roll up your sleeves for an all-night DIY project at home!
Shimmer like a movie star and re-vamp some old favorites at the same time by flatbacking an old pair of high heels. If you have an idea of which shade of Swarovski crystal you'd like to use but are having trouble finding the right color shoe to match, take your shoes in to get dyed. This may be more difficult or easy depending on the type of material your shoe is made from. Next, gather an assortment of flatbacks in various sizes and have a placement pattern in mind. You can use loose Swarovski flatbacks and glue then with an adhesive like E6000, or work with Swarovski hotfix flatbacks that come with heat-activating glue on the back of the stone. Hotfix flatbacks are not recommended for leather, water-resistant material or other porous surfaces, and both Hotfix and no Hotfix flatbacks should be tested on the material with one or two stones before a full application. This will ensure the adhesive you use will work.
After all of the prepping it's just a matter of patience to get the final result. Strass may be a good way to relieve stress by keeping your hands and mind busy! You can try recreating our A Brilliant Night shoes with our FREE instructions and putting your own twist on it with different colors!
-Marissa