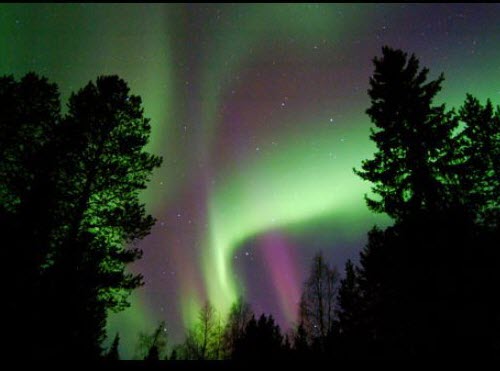 Photo Source: The Huffington Post
If you've witnessed the amazing shimmer from an AB finish bead, then you understand why it's worthy of being named after the Aurora Borealis. This extra sparkly finish on your favorite crystals is the brainchild of Swarovski and Christian Dior.

AB, short for Aurora Borealis, is a bead treatment inspired by the Northern Lights. Invented in 1956 by Swarovski in partnership with Christian Dior, this treatment is applied to glass beads and creates a rainbow—or iridescent—effect. The creation of AB finish was one of the first times that Swarovski partnered with a renowned designer on a product development. Swarovski began experimenting with the manufacturing processes by coating crystals with extremely thin layers of metal and vaporizing it in a vacuum. As a result, Swarovski was able to increase the sparkling power of the crystal! This finish makes any color come alive, but it's absolutely stunning when applied to clear Swarovski crystal beads.

Following the AB finish, Swarovski stepped things up a notch and introduced the AB 2x finish. This brilliant touch gives beads a bold sparkle that reflects beautiful rainbow coloring when it catches the light just right. You can find many of your favorite Swarovski crystals in AB 2x finish. The color Jet in AB 2x finish looks especially wild!
The next time you're bead shopping, you'll know that beads with an AB finish are sure to make an eye-catching accent in your designs.
-Marissa