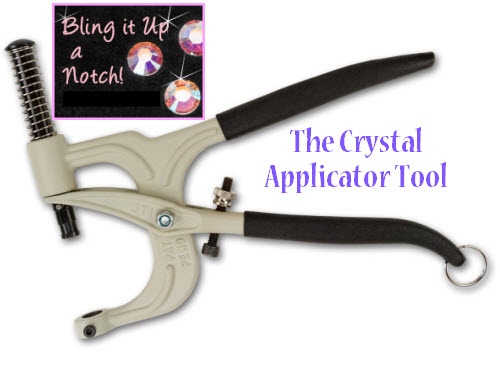 How cool is it? Well, first of all, this tool allows you to customize your clothing and accessories with Swarovski crystal components like a professional designer! Moreover, the crystal applicator tool is compatible with different types of components from SWAROVSKI ELEMENTS, including jean buttons and snap fasteners. Do you have a nice jacket that needs just a little extra something? This crystal applicator tool can help! Use the rose pin sets for instant sparkle, or let out your inner glam rocker with snap fasteners to add a taste of glimmer. Dress up your droll business top with eye-catching buttons, made with only the finest from Swarovski! Do you have an old handbag that hasn't seen the outside of your closet since 1998? Give it a modern facelift with the smallest touches—like one large 17mm chessboard jeans button.
Although this tool can look intimidating, you'll want to decorate everything once you start. Don't worry about how to use it—we have some amazing step-by-step instructions on how to use the tool and its compatible die sets. Our Learning Center even offers free ideas if you need some inspiration on where to begin.
Here's a sneak peek at what our designers have in store for upcycling an old denim jacket! You won't believe how quickly this process goes when you get into a rhythm. Keep your eyes on our Learning Center to see when we reveal the complete idea.

Photo Source: tumblr.
This tool is an investment—think of the money you'll save creating one-of-a-kind designs that can be twice as cool as the ones found in magazines! Dip your hands in the bridal market by making veils and headpieces that will sparkle to match a glowing bride. Take an elegant approach to cuff bracelets by adding crystal snap fasteners to the ends of your favorite scrap fabric pieces. There are countless ways to play with the crystal applicator tool, but you'll never know what until you try it for yourself!
Discover the fun by clicking here.
-Marissa