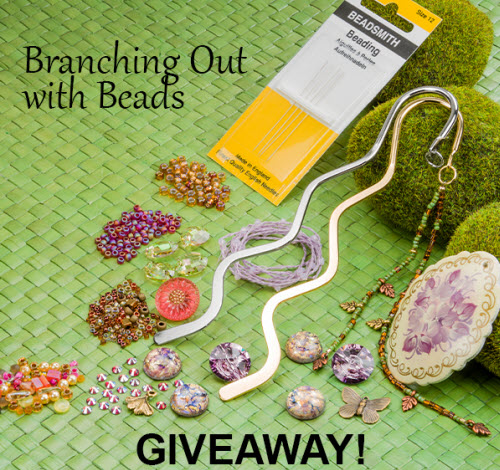 This contest is now closed. Thanks to everyone who participated, and congratulations to our winner, Sundari!
Beads are not only wonderful for jewelry designs, but they can be used to spice up craft projects, too! An art quilt can shine with beaded accents, bookmarks become personal with dangling charms and beautiful buttons can be used in a multitude of projects. Add flatbacks to picture frames, decorate everyday objects with cabochons or use crystal yarn in fiber arts. It's time to use beads in unexpected ways with our Branching out with Beads Giveaway. One lucky winner will receive buttons, seed beads, adhesive, flatbacks and more to make your craft projects shine even brighter. Leave a comment below sharing a new way to use beads in craft ideas. This can be an idea you've had or something you've actually done in your own craft projects. Feel free to also share pictures of your ideas in action on Facebook! Only one entry per person, please.
This contest runs from Thursday, March 21, 2013 to Wednesday, March 27, 2013 at 11:59pm PST. Please see our official contest rules for more details.