It's been a while since our last installment of gemstone legends, and with the addition of our gorgeous collection from Dakota Stones, we're able to bring you new stories and new stones. Since ancient times, gemstones have been believed to hold mystic powers. Their beauty only adds to the mystery behind them, and the way some gemstones are created is a wonder in itself. Today, we'll take a look at four colorful stones.
The luscious blue swirls that churn like crashing waves inside this stone give it a hypnotic effect. Made from a transparent blue phosphor material, this naturally occurring stone can be found in Brazil, Mexico, USA and other locations around the world. Apatite comes from the Greek word Apate, meaning "to deceive." This is because the stone is often mistaken for other stones. This stone is believed to encourage inspiration and may be used to cure headaches.
With gleaming black streaked with sophisticated white, sardonyx is made up of layers of sard and quartz minerals. This elegant stone is believed to be a stone of strength and protection, and improve memory. This sleek-looking stone can be found all over the world and is a member of the chalcedony family.
One of the oldest known gemstones, carnelian features a fiery orange to honey yellow color. Its breathtaking color comes from the iron oxides found in this A-grade agate, often referred to as a natural agate. Ancient Egyptians carried carnelian on and about their bodies as a source of constant renewal and vitality. It's still believed today to be one of the luckiest stones to wear and is associated with the zodiac sign Taurus.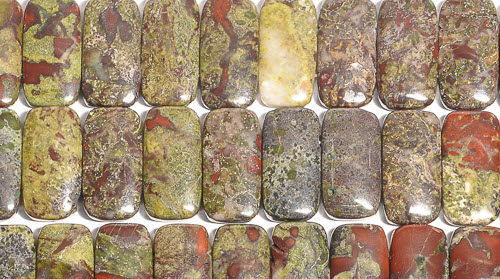 Mined only in Western Australia, this speckled stone features a mysterious mix of earthy green and deep red. The local legend claims that it is the remains of ancient dragons long dead, with the green mottles representing the dragons' scales and the red matrix representing spatters of blood. Dragon blood jasper is also believed to possess the power to give strength and courage, so use it when you need a heart as brave as a dragon's.
Want more gemstone legends? Read more about some of your favorite stones in our previous posts.
Happy stone searching!
-Marissa