Remember coming home and planting yourself in front of the TV to watch your favorite characters get into crazy situations, all which could be solved in 30 minutes? (If only all our problems took 30 minutes or less to solve—it'd be easier than ordering a pizza!) The main characters could always depend on their mom to be there at the end of the day, to help pry them out of their predicaments. We grew up watching TV moms dispense a mother load of advice to their kids, and we listened contently from the other side of the tube. They played such a big role on the small screen that we decided that if they were real, they deserve a gift for Mother's Day too. Moms always like homemade gifts the most, so the best way Artbeads could show its appreciation to these moms was to make them jewelry—and not just the macaroni kind! We'll spotlight our top ten television moms and which of our Learning Center ideas we would make for them this Mother's Day.
June Cleaver—Leave it to Beaver
The "All American" mom of the late 1950s and 1960s was a caring stay-at-home mom, who was always there to greet her husband at the front door and always ready to dispense words of wisdom to her two sons. While we might scoff now at her pristine image of high heels and pearls, this mom knew how to keep her kids in line. With one stern look, that unforgettable 'mom glare', and a few carefully chosen words, Wally and Beaver straightened up quickly. We would like to present June Cleaver with our Kissing Birds necklace idea. Its fresh white pearls and romantic rose touches will complement her signature style of dresses and aprons.
Laura Petrie—The Dick Van Dyke Show
This suburban housewife showed viewers that it was okay to be feminine and strong at the same time. With her Capri pants and sweet disposition, Laura faced the challenges most American mothers could relate to—mostly how to discipline the kids and getting along with the in-laws. While she was viewed as a very feminine character, Laura was very much articulate and wasn't afraid to voice her opinion. For Laura Petrie, we would make our Miriam necklace. It's bold but still feminine, and we think she would like it.
Marion Cunningham—Happy Days
Mrs. C. was everybody's mom. She kept an eye on her two kids, and bad boy 'The Fonz' while maintaining a clean house. Her witty comments kept the kids of the show out of trouble and kept her husband in check, too. She was a devoted mother and loving wife, and lived in the house everyone wanted to hang at. We would make Lisa's Gift Bracelet for Marion Cunningham because it's got a classic look with just the right amount of flavor.
Joan Harris/Holloway—Mad Men
A fairly new TV mom, Joan is another icon for the 1960s. She knows how to use her beauty and wit to get what she wants. Joan enjoys working hard and maintains a strong presence in the advertising agency she works for, progressively gaining power with a femme fatale attitude. As a mother, though, Joan is devoted to ensuring security for the well being of her son. For this new mom, we would make our Syncopated Rhythm necklace to match her unconventional charisma and stunning beauty.
Carol Brady—The Brady Bunch
Carol Brady really was an untraditional mom for the times. She headed a blended family (a big one at that!) and managed to keep it all under control. Not only did this show help influence how society viewed blended families, but mom Carol had a big job spearheading the effort. She had to be in control of her children and her stepchildren and emphasize the importance of support and love. For Carol Brady we'd make our Blossom necklace. This sweet design symbolizes the blossoming future of a new beginning, like her new family.
Mabel Thomas—What's Happening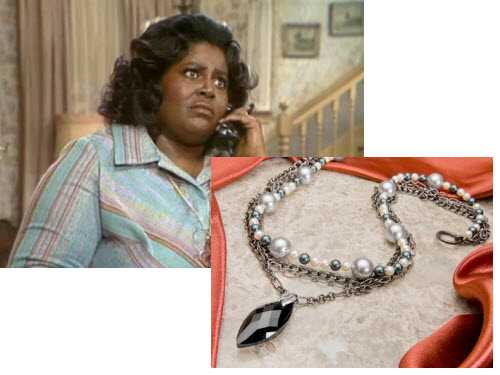 Mama Mabel was another one of those mothers who watched over all the kids in the neighborhood. With her big heart and sharp tongue, she executed the perfect blend of discipline and affection. Her words were always wise and should always be heard. For this superstar single mom, we'd make Mabel our Camelot Chains necklace design. This beautiful balance of bold, gunmetal chain and elegant Swarovski crystal is ideal for her.
Elyse Keaton—Family Ties
The role of working mom was on the rise, and Elyse Keaton helped bring to life the challenges and joys of this double role. Though she made it look effortless, we looked up to her for being able to support her family both financially and emotionally. Lest we not forget: she had a heck of a time raising a young yuppie son when she herself was a bohemian babe turned white collar mom. Elyse managed to stay on top of domestic duties and played teammate to her husband in taking care of their kids..all on top of being self employed. To capture her hippie spirit and working mom style, we would make Elyse Keaton our Bead Orbit earrings.
Clair Huxtable—The Cosby Show
This was another mom who seemed to be able to do it all. Clair Huxtable was a beautiful mother, lawyer—and nutritionist for her husband. It's been said that behind every strong man is even stronger woman, and this is no more true than for the Huxtable family. While Cliff could lay down the law with the kids, it was clear that Clair had a firm and tender hold on everyone in the household. For being able to hold down a powerful career and keep her kids (and husband) in line, all the while with a patient and kind spirit, we actually made Clair her own bracelet—The Huxtables bracelet.
Marge Simpson—The Simpsons
She may only be two-dimensional, but Marge Simpson can hold her own against other incredible moms on TV. Who else could tend to the antics of a dimwitted husband, trouble-making son, super smart daughter and a toddler, all the while maintaining some fabulous blue hair? Although she's tried her hand at various careers, the best job for her is that of homemaker. Her patience is saint-worthy and her kind personality is recognized through her town of Springfield. She knew just when to wrangle her family in from their antics, but also wasn't afraid to join them on occasion. To match her 'animated' lifestyle, we'd make Marge Simpson our Cosmos Sorbet earrings.
Debra Barone—Everybody Loves Raymond
Debra Barone endured what most of us dread: living next to your in-laws. She was able to hold her own, though, and wasn't afraid to tell her overbearing mother-in-law when she stepped out of line. Debra was a devoted wife and whole-heartedly supported her husband. When she's not playing ringleader to in-laws who show up unannounced, Debra takes care of the couple's three children. She teaches them important lessons and proves that she can stand toe to toe with the old-school style of mother-in-law Marie. For being able to keep her cool (most of the time) with grace, we present Debra Barone with our Night on the Pier necklace design.
There are a lot of wonderful TV moms that graced our television screens over the years, and we think they all deserve a great gift this year for the holiday. In a way, these mothers helped mold us into who we became. We chose to watch them raise their own children, and we respected their approach to life. So, to all moms real and fictional, we say Happy Mother's Day!
-Marissa
Photo Sources:
The Poptart Culture
Reneetbouchart.blogspot.com
sitcomsonline.com
film.com
nypost.com
sitcomsonline.com
Grizzlybomb.com
Racked.com
Cartoon Galaxy
fanpop.com