Linda and Tim Hartung, co-owners and designers behind Linda Arline Originals, Alacarte Clasps™, WireLace™, and WireLuxe™, have been designing jewelry for most of their lives. Driven by their faith, love for one another, and passion for beautiful, high-quality jewelry design, the couple has blazed a trail in the do-it-yourself jewelry market creating new tools, techniques and products for designers. I had the pleasure of sitting down with Linda after her recent Artbeads Café shoot to talk about her passion for jewelry, how she came to be a pioneer in the DIY market, what inspires her and what words of wisdom she has for the rest of us.
Jes: Hi Linda, welcome to Artbeads! Thank you so much for sitting down with me today. You have accomplished so many amazing things in your life; I don't know exactly where to start. Maybe we should start at the beginning, how did you first get into beading?
Linda: Thanks for having me. That is a good place to start. I have been asked this question a lot, so I've really had to think about it. Starting as young as five, I can remember walking along the riverbeds to find "friendship rocks" with holes in them and stringing them on my shoelaces to make a necklace. I remember doing that a lot because my mom was always asking me "where are your shoe laces?!" [Laughing] I couldn't wait to get colored tennis shoes because they had colored laces to make colored necklaces to go with my rocks. My mom was a Girl Scout leader and my little sister I got to tag along to meetings with her and my older sisters to make lariats, and lanyards, and potholders, so I've always loved crafting. Lanyards were one of my favorite things to do, so I think a lot of it is just the way I'm built and a lot of it comes from being exposed to it through the Girl Scouts. As I grew up I was into horses, and you know that kind of preoccupies your time, and then I met my (didn't know then) soon-to-be husband. He was an artist and we would go to craft fairs to sell his art. I wanted something to do, and feathers were big at the time, so I started making feather earrings. I would sell out every time and made enough money to cover the cost of the booth and enjoy some food while we were sitting there. It was just kind of a neat way for us to do things together.
Jes: That is so sweet! So how did selling jewelry for booth money turn into the business you have today?
Linda: Well, then of course I got into the business side of life. I had a couple jobs, had my horse, and then my husband graduated with a graphic design and marketing degree and I decided to represent him, and we grew our business doing that for 25 years. When we had our daughter, I decided I wanted to spend more time raising her, so we made a shift. We decided to downsize, before downsizing was a buzzword, and moved to Forestville, CA. We visited there all the time and thought it was the most beautiful place, and one day we just thought, "Hey, why can't we just live here?" So we did. We kept a handful of customers, and started to move into jewelry because it was small and manageable.
My husband had made jewelry all through high school and college using The Lost Wax Method* and I liked to create things, so one day we just decided to retire from graphic design and marketing completely and just focus on making and selling our designs. By then, our daughter was off to college and it was something we thought would be small and portable that we could travel with. We would go to jewelry and craft shows near our daughter's college so we could go visit her and then go to the shows. We started traveling for shows all of the time, and eventually got started with the clasps because we could not find elegant clasps to go with our finished jewelry. We purposely chose to go with high-end costume jewelry because there were so many cool things to work with. We traveled all over looking for someone that would make us high-end, nickel-free clasps that could be customized with Swarovski crystals, and eventually found a few manufacturers in Europe. Once we started using the clasps in our finished jewelry, fellow designers would beg us to sell them some because there just wasn't anything else like them on the market. So we would sell to them, and that increased our demand for more, and then Bead & Button featured them in an issue, and that increased our demand so much that it kind of pulled us into the DIY market (Alacarte Clasps). Swarovski was just starting to expand into the DIY market at the same time, and they liked the pieces I had been making with their stuff, so I began working with them on their Create Your Style program, and that's how we really got our momentum in the DIY market. Now I would say I do DIY in reverse, I make pieces for my finished jewelry line or for a magazine and I see what people are interested in learning about then I go back and think "how can I turn this into a project?" So my kits are really designed to take the frustration out of learning to design so that people can focus on picking their colors, and learning the technique, and just having fun with beads.
Jes: Wow, what an amazing journey! I love that your kits are designed that way. I have experienced frustration while trying to learn a new technique on more than one occasion; I think I might need to try one of your kits! It sounds like you are part entrepreneur, part jewelry designer, and part inventor. What inspired you to create WireLace and WireLuxe?
Linda: For WireLace, I had seen a sample of knitted wire in Europe and I let my mind whirl trying to figure out what I could use it for. Eventually I tracked down the manufacturer and we worked with them to see what we could do together. It was so exciting because I felt like we were exploring uncharted territories. Eventually I ordered a full spool of every color and hung them from the wall in my craft room. For years I just admired them and thought about how to use them in my designs. Sometimes I'd make a piece or two with it but I hadn't really figured out what to do with it yet. One day, the editor of Beadwork Magazine was talking with Tim, trying to find a source for a project that used knitted wire. She mentioned they had a project but could not run it because they had no source in the USA for the material. Tim knew immediately she was searching for WireLace and told her "we have a whole wall of it in our studio!" The editor asked if we would be willing to be listed as the supplier and Tim said "sure", not really thinking much of it, and all of a sudden my phone was ringing off the hook; everybody wanted to order WireLace! I sent my daughter to the store to get the magazine because I couldn't figure out why so many people were interested, and it turns out they had put the project on the cover [laughing]. WireLace just took off from there. We ended developing additional colors and sizes to meet the needs of the DIY market.
WireLuxe really just came from knowing the market. I like to look for needs that aren't being met across multiple channels and try to figure out ways to meet them. In this case, seedbeaders, wire workers, and beaders all had a need for a wide, stable-yet-flexible structure to work on. So I started thinking, "what if I could make an open wire weave structure that was useful for design, but interesting enough to be used alone?" So Tim and I tracked down a company that was willing to build a machine for us. We tinkered with it for over a year. We would try something and that wouldn't work so we would take it apart and start over. We spent a lot of time on the phone with their support people and they would help us try to figure out what to try next. We ended up having custom pieces made for the machine and eventually we came up with the WireLuxe open-weave structure. I'm really glad we did it because it was a lot of fun and we're so happy with the finished product.
Jes: Your story is simply remarkable. I really admire your creativity and ingenuity. I've got to ask, what inspires you as an artist, designer, and inventor?
Linda: Well my husband and I always knew we wanted to work together. We are deeply faithful Christians and I would say faith is the core of my inspiration. Nature is beautiful and inspirational, and I really marvel at the endless creations on earth, but there is a verse in the Bible that says "…and by Him and through Him all things are created" and I really connect with that. I feel like there is a wellspring within me and creativity will flow out if I just let it. Some people really focus on putting information in and trying to get a certain result; I just focus on letting ideas and creativity flow out.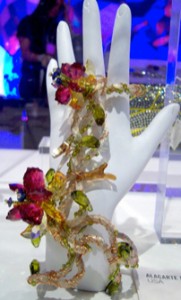 Jes: That is really special, thank you for sharing that with us. Last question, do you have any words of wisdom or advice to pass on to our Artbeader community?
Linda: Sure, well my advice is to have fun, you know, play with your beads! Lay them out, position them in different ways, and see what you like. Don't be afraid to waste a little string or wire. Let yourself experiment, that's how you learn to be a better designer. When I put together a piece I leave the components out at my desk for while. I arrange them in different ways until I see a design that really speaks to me, then I start thinking about how to make it. If you are afraid to waste stringing materials at first, start with a kit. Find a design you love, get a kit for it, practice the technique and then adapt it.
Jes: That is great advice! Thank you so much for taking the time to chat with me today.
Linda: Thank you so much for having me!
*The Lost Wax Method: The lost wax method of casting first began in ancient Egypt, Greece, and Rome thousands of years ago. This technique is still respected as one of the premiere methods of capturing superb detail in metal. Once an artist carves his or her design into the wax it can be transferred to a variety of metals, and it is often used in dentistry, sculpture, and fine jewelry.