Do you know the birthstone associated with your birthday month? These birthstones are full of symbolism and meaning. The gorgeous colors are traditionally based on precious gemstones, but we offer all kinds of beads and charms to add your birthstone to jewelry designs in unique ways. Bringing birthstone colors to your designs allows you to create something meaningful and personalized. They are excellent options for Mother's Day jewelry – Mom can be reminded of her kids (or grandkids) with each birthstone color. Birthstone jewelry also gives you something special to wear year-round and especially on your birthday. We're diving into jewelry ideas, Swarovski color matches (like the Classic Cut pendants above), and other great items we've picked out for you to use for each month's birthstone.
January – Garnet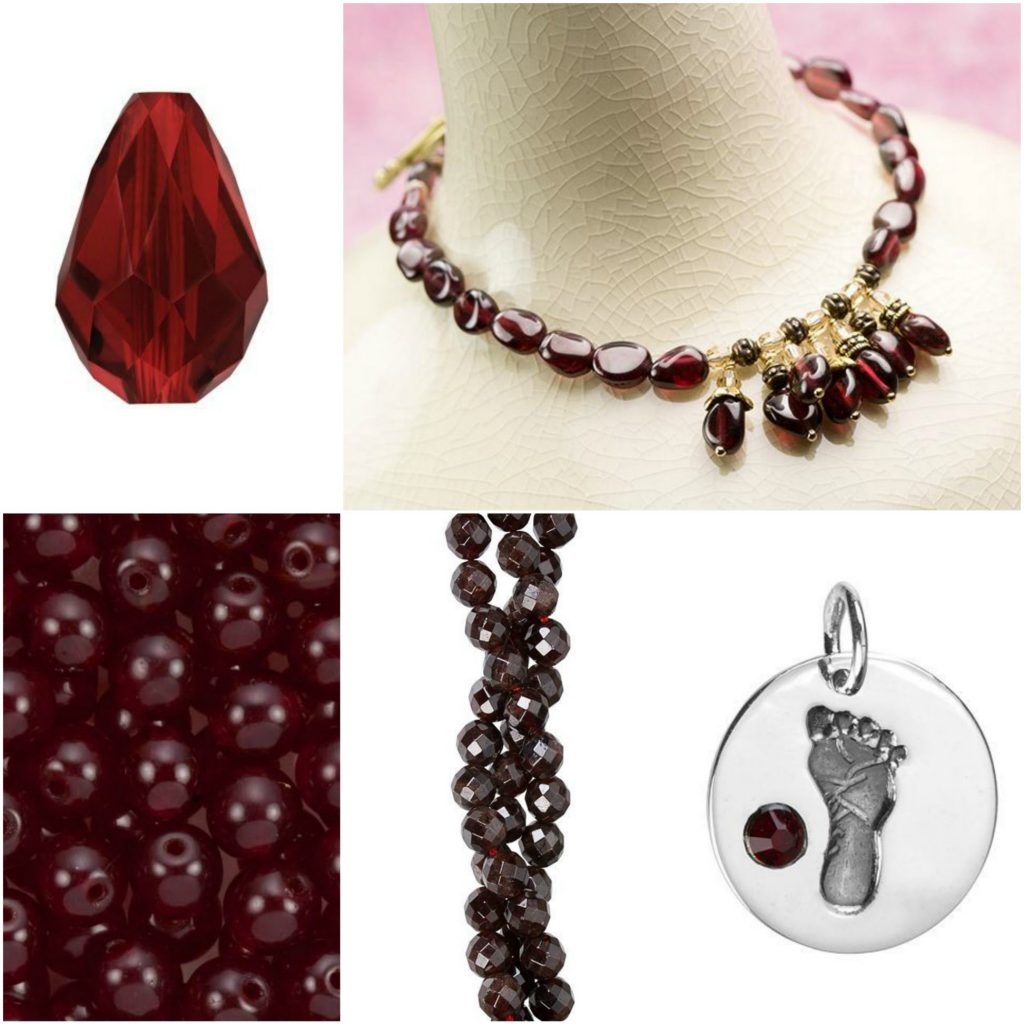 January is the first month of the year, and is associated with Garnet. This birthstone color is deep red in color and symbolizes faith, love, and courage, so it's a great way to show eternal friendship and trust. It's also said to help build energy levels. Swarovski offers Siam crystals for you to incorporate into your jewelry if January is your month. You can also add garnet beads from Dakota Stones to your projects for a special touch. Our Dream in Garnet bracelet is full of lovely garnet gemstone beads. Czech glass round beads in a garnet color are another great option. You'll also love our January birthstone charm, featuring a garnet colored rhinestone.
February – Amethyst
Amethyst is the gemstone and color associated with the month of February. This deep purple tone has long been associated with royalty and is said to strengthen relationships and give its wearer courage. This color is said to have legendary protective powers, so it's a wonderful option for adding to jewelry. You can use Swarovski's Amethyst crystals to complete your birthstone jewelry. Amethyst beads from Dakota Stones are another great option. We also love dazzling Grace Lampwork beads in an amethyst color and our February birthstone charm. If you want to create a design featuring all amethyst, try our Crown Jewel bracelet.
March – Aquamarine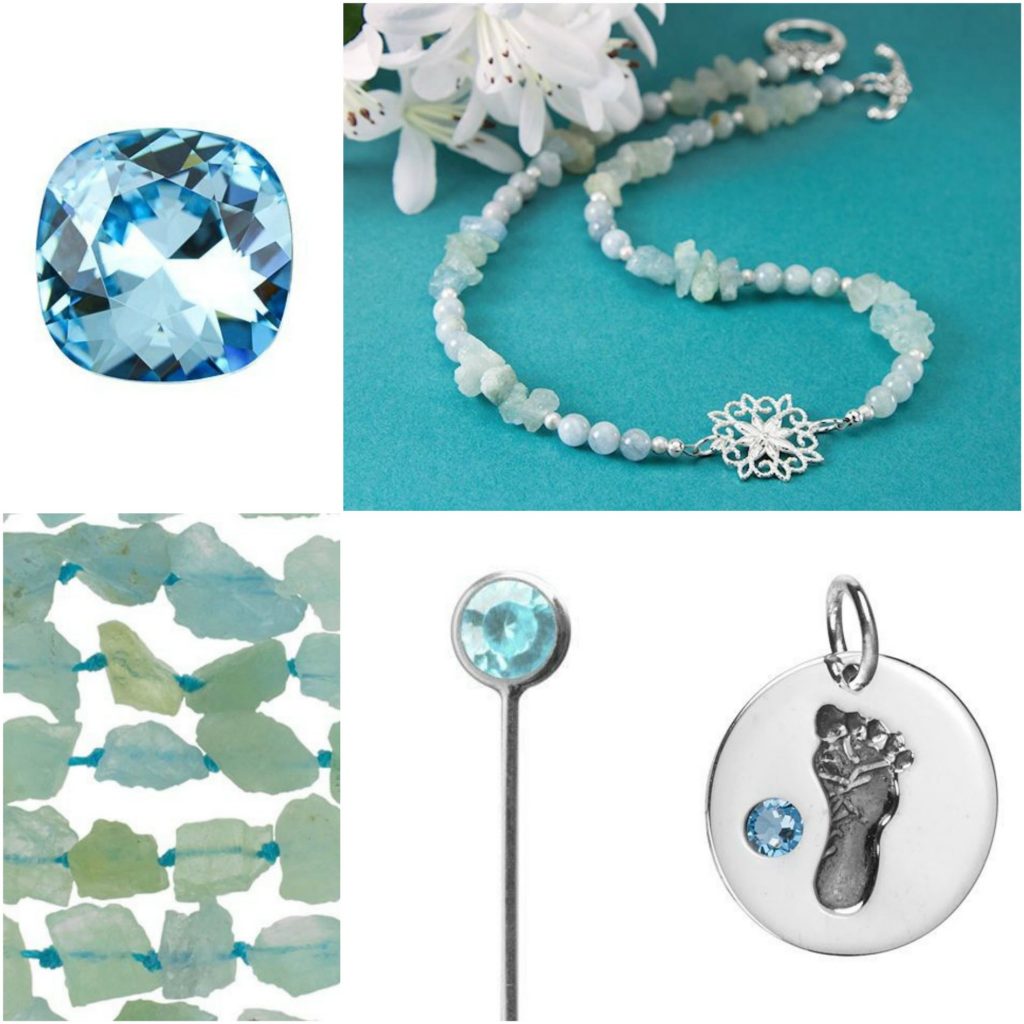 March is the month of aquamarine, which symbolizes creativity, hope, and courage. This alluring splash of ocean blue color can cool any temper with its soothing style. It's also said to promote awareness and communication. Swarovski's Aquamarine crystals are a dazzling choice for this birthstone or you can try some real aquamarine beads from Dakota Stones. Our High Tide necklace also features some aquamarine fun. For a unique drop of aqua, dangle our cubic zirconia head pin from designs.  You'll also love our birthstone charm for March, featuring an aquamarine rhinestone.
April – Diamond
The birthstone associated with April is the diamond, and the sparkling clear color of diamonds is easily represented by crystal, as well. This color symbolizes everlasting love and can bring strength and clarity to the wearer. Swarovski makes the most dazzling clear crystals for you to adorn your designs with. You can also try Dakota Stones quartz beads. They look stunning alongside Swarovski Crystal AB beads in our Adore Me necklace. Our clear teardrop pendant would also look wonderful at the center of an April design, or you can try some clear Czech glass rondelle beads or crackle rounds as accents.
May – Emerald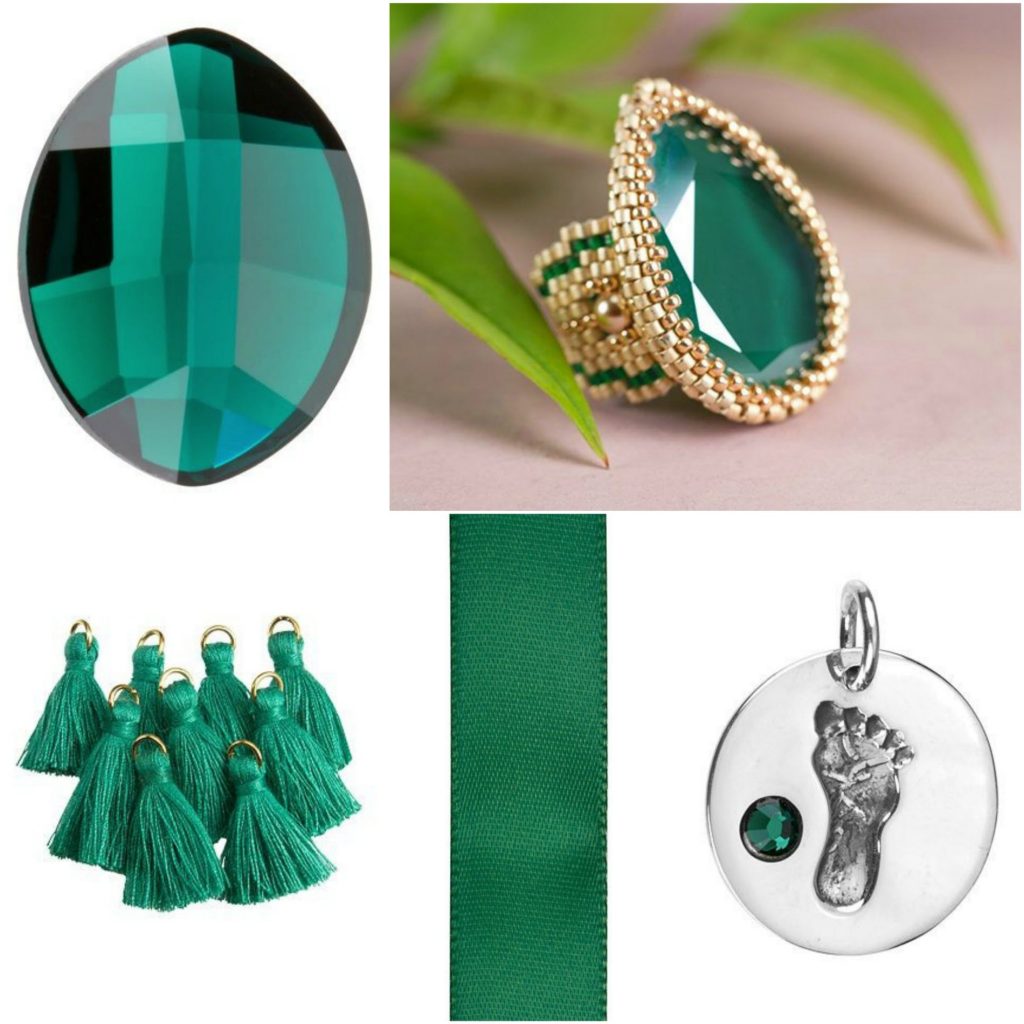 The luxurious green tone of Emerald defines the month of May. This color is full of lush green radiance and is associated with fertility, rebirth, and love. It's a youthful color you can be proud to add to any jewelry design. Swarovski's Emerald crystals are full of rich glitter that will add some excitement to your birthstone jewelry. We think emerald tassels would also make a nice addition to personalized looks (why not try using birthstone tassels to represent members of your family, like Cheri did in her Tassel Clan necklace). We also adore the chic look satin ribbon can bring to designs. If you're looking for a way to showcase emerald in your style, try Cheri's Dream in Green ring or add our May birthstone charm to your projects.
June – Pearl and Alexandrite
June is a special month, as it can be represented by either alexandrite or pearl. Pearls come in all kinds of colors and symbolize purity and loyalty. Alexandrite is a wonderful stone that changes color in different lights. In direct sunlight it can display a soft lavender or pink color, while in artificial light it looks blue. It is believed to promote creativity and bring peace. You can try Swarovski's Light Amethyst crystal color to represent the soft lavender color associated with Alexandrite, or give some of our Czech glass alexandrite beads a try (they change color, just like the gemstone!). Our June birthstone charm also features a rhinestone that looks like alexandrite. If you want to try pearls, treat yourself to some of our freshwater pearls. Swarovski also offers crystal pearls, as seen in our Arwen necklace. Moonstone is another birthstone option for June, so go ahead and try some moonstone beads from Dakota Stones.
July – Ruby
July is a vibrant month, represented by a ravishing red hue that stands out. Rubies have long been at the center of many rituals and superstitions and they were once known as "the king of gems". Throughout history, this bold color has represented courage, romance, inspiration, and prosperity. Those with this birthstone are known for loyalty and tenacity, yet can also be sensitive and emotional. Use Light Siam crystals from Swarovski to represent this birthstone in your designs. Our July birthstone charm features a rich ruby red rhinestone on the front or you can try a cubic zirconia link for that pop of red. Once again, Czech glass round beads are a wonderful way to bring this birthstone color to designs. If you're looking to add this color to your next ensemble, our Cherries Jubilee bracelet is a must!
August – Peridot
Peridot is a cheerful and refreshing green color that represents the month of August. This gemstone was a favorite among Pharoahs of Ancient Egypt and has been believed to hold many magical powers over the years. Today, it is said to bring good luck, success, and health to those who wear it. It is also believed to give strength against negativity and stress. Swarovski's peridot crystals share the name and hue of this gemstone. Dakota Stones also offers the Peridot gemstone in bead form or you can try jade for a similar look. In addition to these options, you can try our faceted glass link and our August birthstone charm. If you're looking for a way to showcase the color Peridot in your designs, try something like our Claire necklace.
September – Sapphire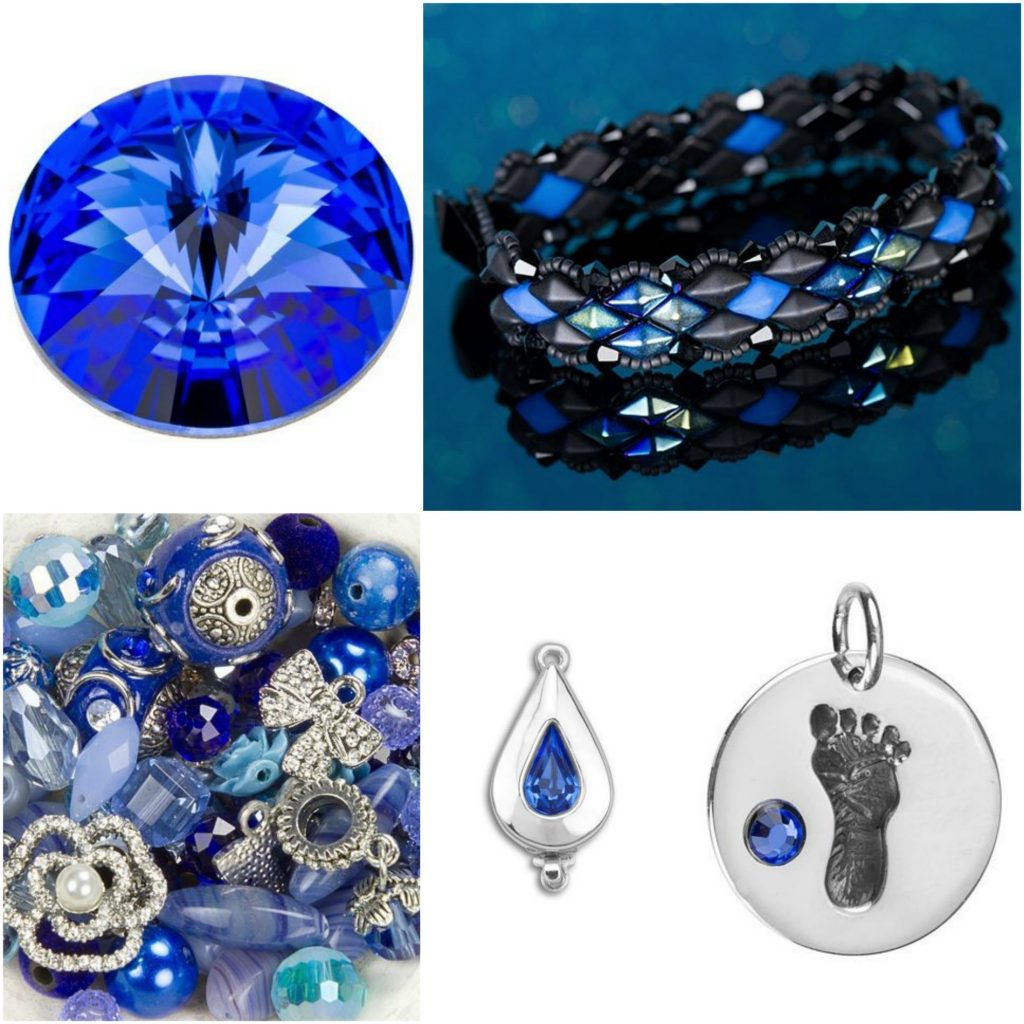 The beautiful blue of sapphire represents the month of September. Sapphire is a dramatic deep blue hue that will become a good luck symbol for those born in this month. Sapphire means "clear thinking", so it's sure to add clarity to your designs. This color is associated with traits like truth and sincerity and symbolizes wisdom and faithfulness. You can use Swarovski's Sapphire crystals to add this birthstone color to your projects (we love the new Majestic Blue for September babies, too). We also have a Sapphire Ice Designer Blend and matching Bead Mix from Jesse James Beads that are perfect for this birthstone! If you're looking for more September style, you'll love adding our birthstone charm or beautiful Alacarte clasp to your designs, as well. Try making our Sapphire Night bracelet to make this birthstone color really pop.
October – Opal and Pink Tourmaline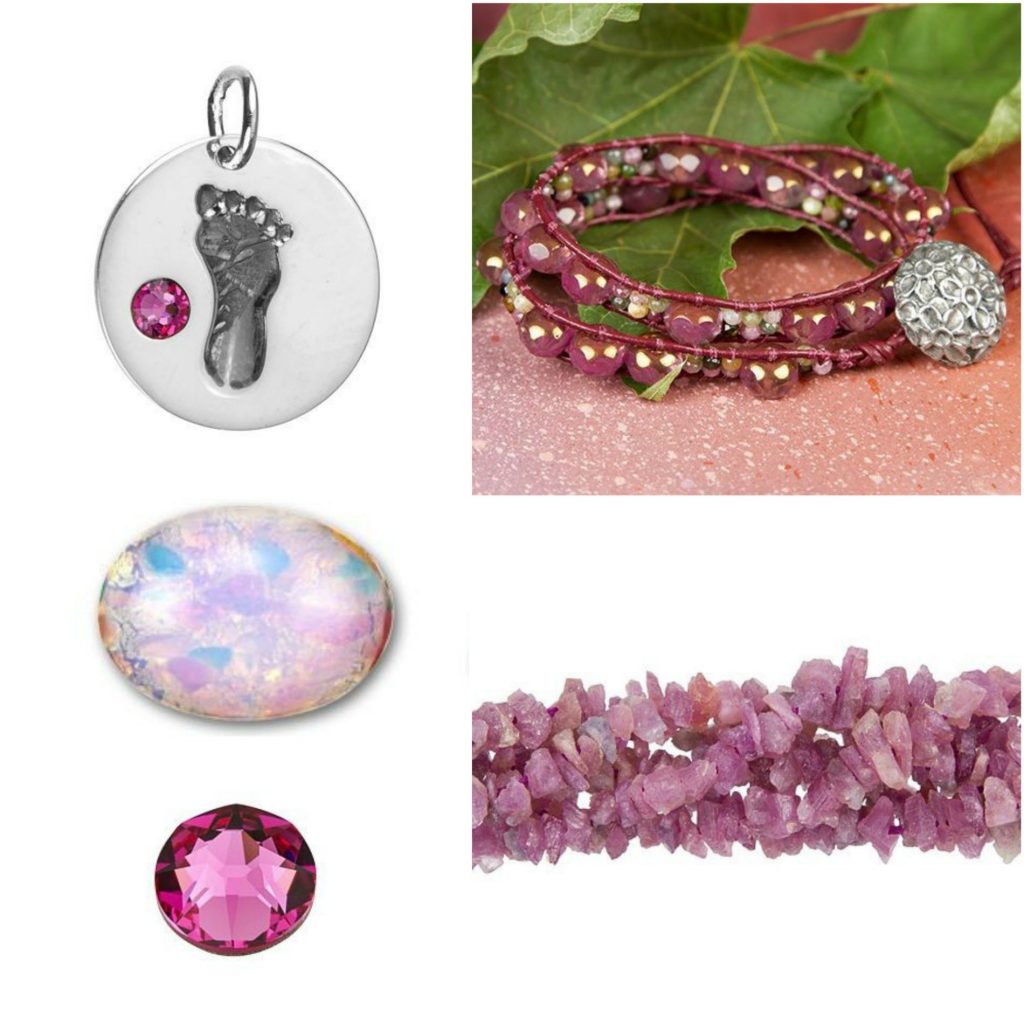 October is another month that has a couple of birthstone options. Pink tourmaline and opal are both radiant beauties to inspire your creations. Tourmaline is known as the "peace stone" and is believed to promote creativity when worn. The pink color of October's birthstone is associated with empathy and tenderness. Opal displays magical colors and was once valued for its supposed magical healing powers. Today, opal is associated with purity and hope. Try Swarovski's Rose crystals to represent pink tourmaline in your designs. Dakota Stones offers some real tourmaline beads, too. Our Sunset Harvest bracelet features tourmaline beads, so it's a great option for a meaningful look. We also offer our October birthstone charm and you can always use a glass cabochon with an opalescent effect to represent opal as your birthstone.
November – Citrine and Topaz
November is represented by birthstones that boast a warm orange tone that you won't forget – Citrine & Topaz. Many believe this delectable caramel color aids the intellect and symbolizes love, friendship, and affection. You'll find Swarovski crystal beads in the sumptuous Topaz hue and seed beads in the same shade would make a lovely accent. Create a wow-factor in your birthstone jewelry with a Venetian glass bead in a topaz color or keep it classic with our November birthstone charm. Showcase the color Topaz in a jewelry design by recreating our Summer Haze necklace.
December – Blue Zircon and Turquoise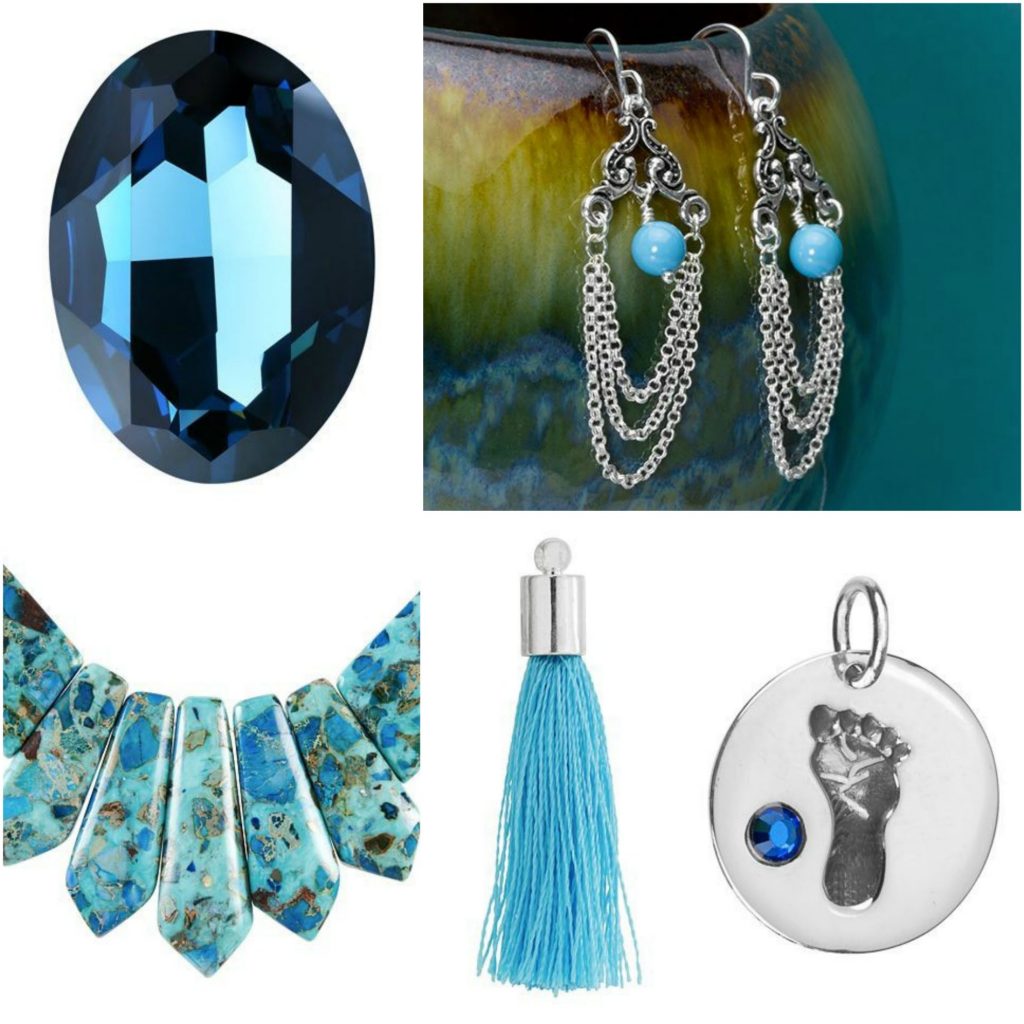 Both blue zircon and turquoise display a treasured blue color that's the perfect representation for the month of December. Blue Topaz is another alternative birthstone for this month, and again it's a cool blue you can be proud to wear! Use turquoise to symbolize good fortune and blue topaz as a symbol of creative inspiration. Blue zircon is believed to promote wisdom. Use Swarovski's Montana color to represent all three birthstones in your jewelry. Swarovski also offers a Blue Zircon color you might love. Our December birthstone charm is a wonderful way to represent blue topaz in your designs. If you're more of a turquoise lover, you might want to showcase our Dakota Stones turquoise beads in your style. A nice turquoise tassel makes a great touch in birthstone jewelry, too. Try making our Turquoise Spell earrings for a taste of turquoise to go with any outfit.
More Inspiration
We hope you found some wonderful components to represent your birthstone. Which of these elements are you planning on using in your jewelry designs? If you're looking for more inspiration, check out Swarovski's PDF Guide all about birthstones and the colors associated with them. Don't miss Swarovski's beautiful Classic Cut pendants, either. These timeless crystals are the perfect way to display birthstone colors in your designs.
You'll also find a wonderful page on our website full of more birthstone information and links to all kinds of jewelry-making components and jewelry designs to inspire your birthstone creations. This page even provides Zodiac sign matches for each birthstone, for even more personality in your style.
We have a wonderful infographic below for you to keep track of all of the birthstone options for every month. Make sure to pin it to one of your Pinterest boards to always keep it handy. Enjoy!