If you are a lover of seed beads, you'll definitely want to use TOHO Aiko seed beads in your jewelry designs. These cylinder seed beads are made with a special state-of-the-art machine to be highly consistent and precise. Why the name Aiko? They are named after the president of TOHO's wife, to honor his determination to make these the finest beads in the world. With such precise seed beads, you won't have to worry about culling them and they are so easy to work with. Just look at how perfect they look compared to similar seed beads: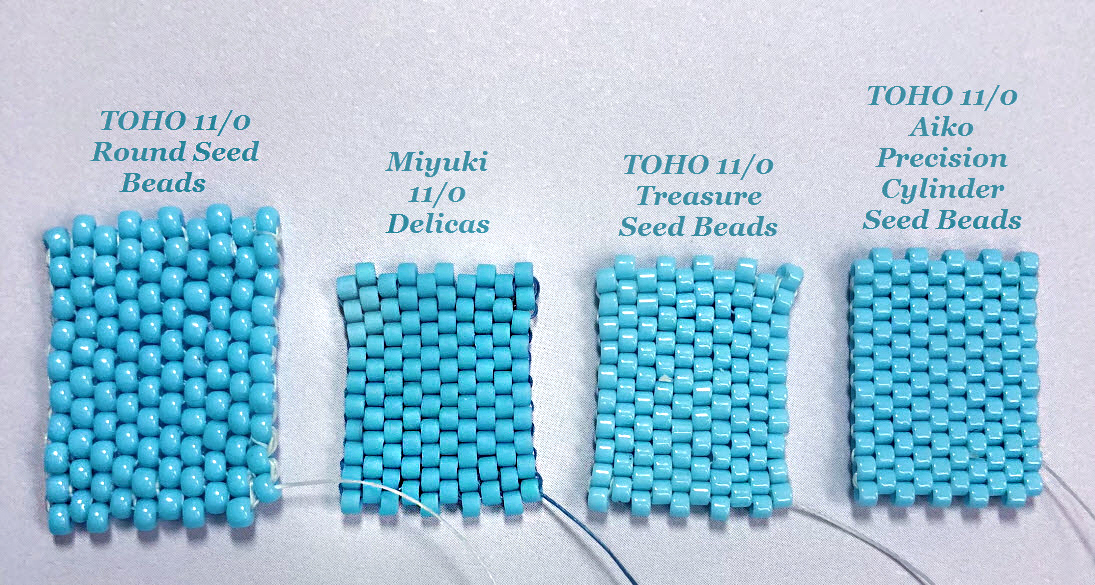 As you can see, TOHO Aiko seed beads create clean, straight rows within the stitch. There is some size variance with other seed beads, but Aiko seed beads are nicknamed "The Perfect Cylinder Bead" for a reason. Not only do they line up beautifully within stitches like brick and peyote, they feel nice. These little beads will provide a smooth, silken finish to any beaded piece created with them.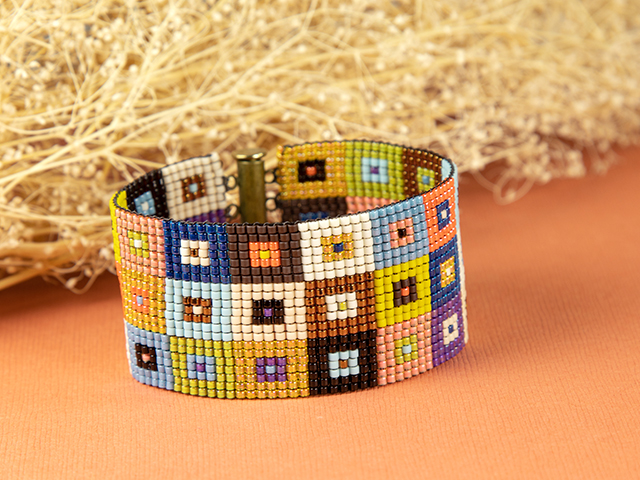 These little cylinder beads are starting to become our jewelry designers' favorites to work with. Artbeads designer Cheri Carlson made the loom bracelet above with a variety of colorful Aiko seed beads to create a patchwork look. She also made lovely earrings in smoldering sunset colors:¬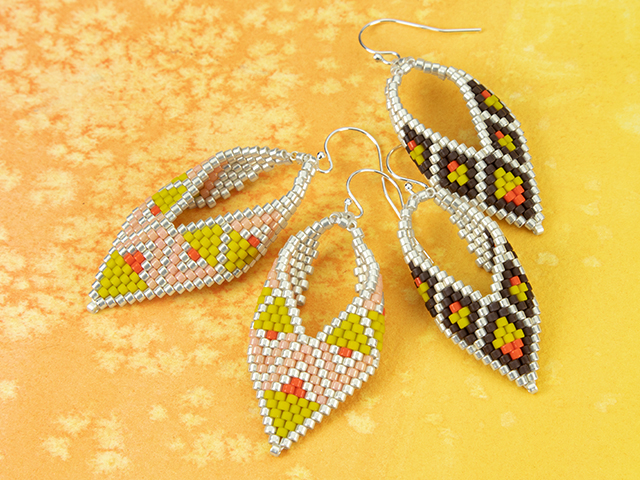 These earrings feature a variation of the Russian Leaf stitch. Because the Aiko seed beads are so precise and full of vibrant color, the geometric patterns Cheri created within the stitch show up wonderfully.¬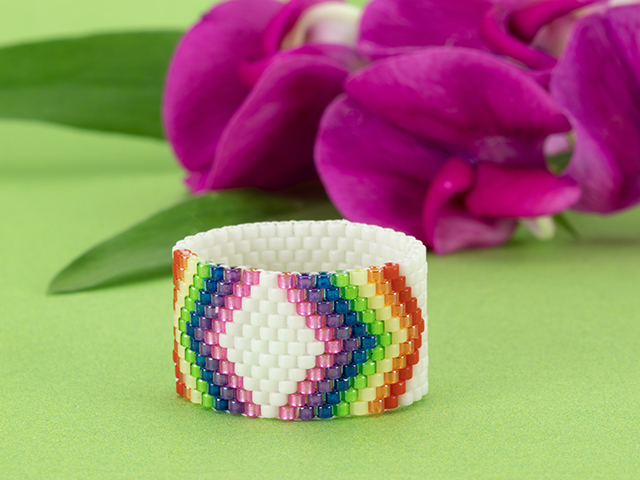 Artbeads Chief Jewelry Designer Cynthia Kimura also had fun discovering how amazing Aiko seed beads are. She used them in this peyote stitch ring. Once again, the seed beads line up perfectly in the stitch and the ring is ultra comfortable to wear thanks to the smooth, consistent feel of the beads. This ring also shows off some of the bright and amazing colors available!
TOHO's Aiko seed beads are available on Artbeads.com now and we offer almost 500 colors to choose from. You're sure to find the perfect colors for your creations. We were able to match some of these amazing colors to one of our favorite color palettes inspired by Cynthia's travels.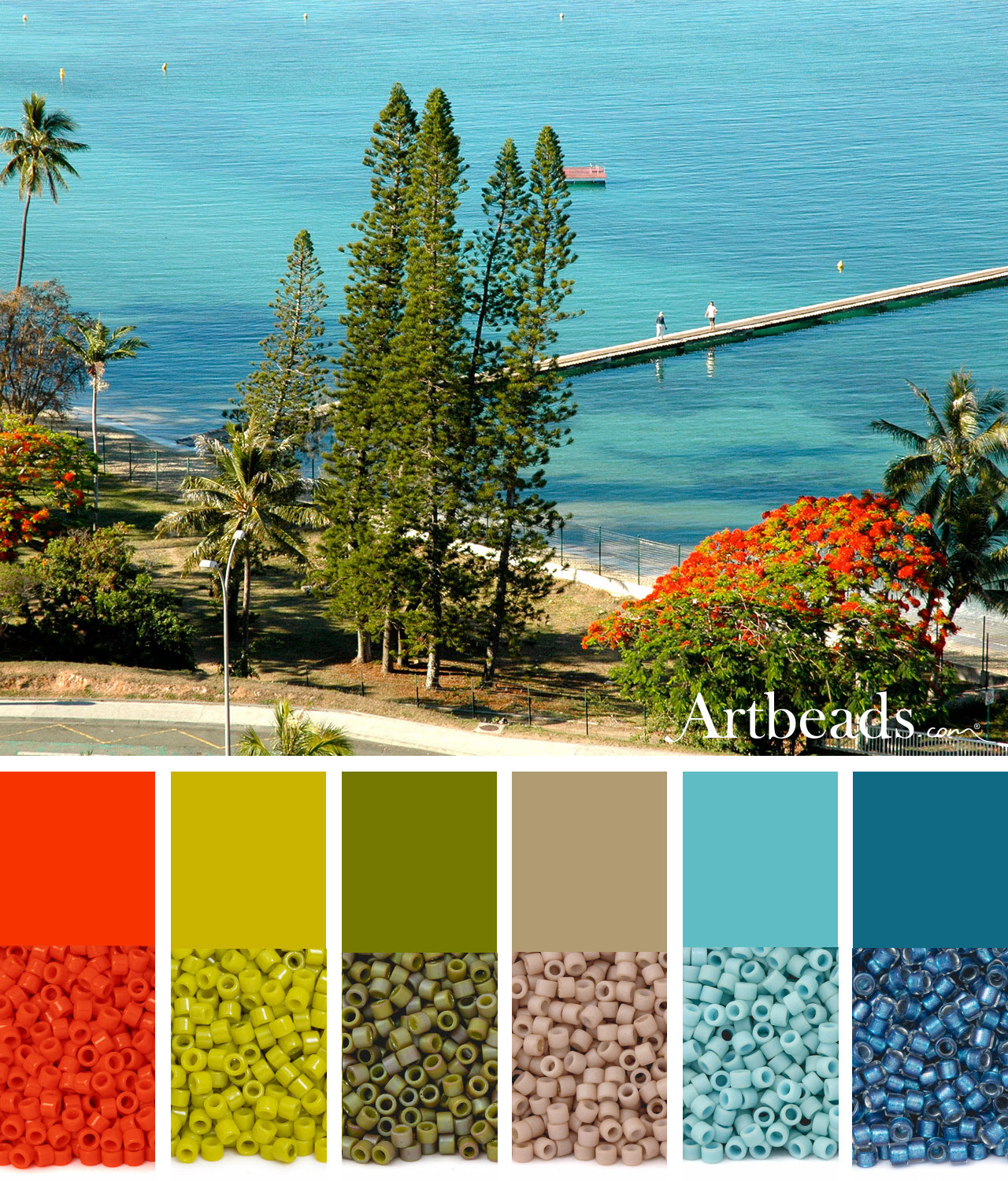 These colors are inspired by the ocean blue, floral red, and lush green colors found on Cynthia's home island of New Caledonia. The Aiko seed beads we paired up with this palette are just perfect for recreating that tropical feel.
Aiko seed beads featured:¬
We hope you fall in love with TOHO Aiko seed beads just as much as we did! They really are special seed beads that can make all the difference in a project. You'll find more jewelry designs featuring Aiko seed beads in our Design Studio. Tell us what you plan on making with them in the comments below. Once you've worked with them, make sure to leave a product review for them on our website and share pictures on our Facebook page (or tag us on Instagram).