It's never too early to start planning for the holidays! We might be in the middle of summer, but Christmas will creep up sooner than you think and we want you to be prepared. Our designer Cheri Carlson whipped up some super adorable Christmas jewelry-making kits that you can see in our latest Artbeads Cafe episode. Watch the episode below and then read on to find out how you could win one of these cute kits!
As you can tell, we love coming up with cute Christmas jewelry options for you to create. Every kit comes with all of the supplies needed to make the featured design, as well as step-by-step instructions and helpful diagrams.  We also had a lot of fun decorating the Artbeads Cafe Studio with some Christmas flair! Did you notice the festive garland around our Cafe sign? We certainly have amazing holiday kits like the ones shown in this episode, but did you know you can shop other great items by theme on our website? Check our Christmas section here. We also offer up excellent Christmas jewelry inspiration in our Design Studio. 
Design Studio Inspiration
If you're looking for more seed beading ideas, try our Twelve Days of Christmas bracelet. It features peyote stitch bands around Czech glass Carrier Beads. Each band represents each day of the Twelve Days of Christmas. You can even slide the bands around to show a number, like an advent calendar! 
Want to make a special ornament for your Christmas tree? Start with our Christmas Keepsakes Ornaments. Each one features a paper mache pendant at the center hand-painted by Russian artists for a truly treasured heirloom. You can also try our brick stitch Winter Wonderland Ornament on your tree this holiday season. These ornaments would also make excellent gifts for your friends and family. 
A Christmas Kit Giveaway!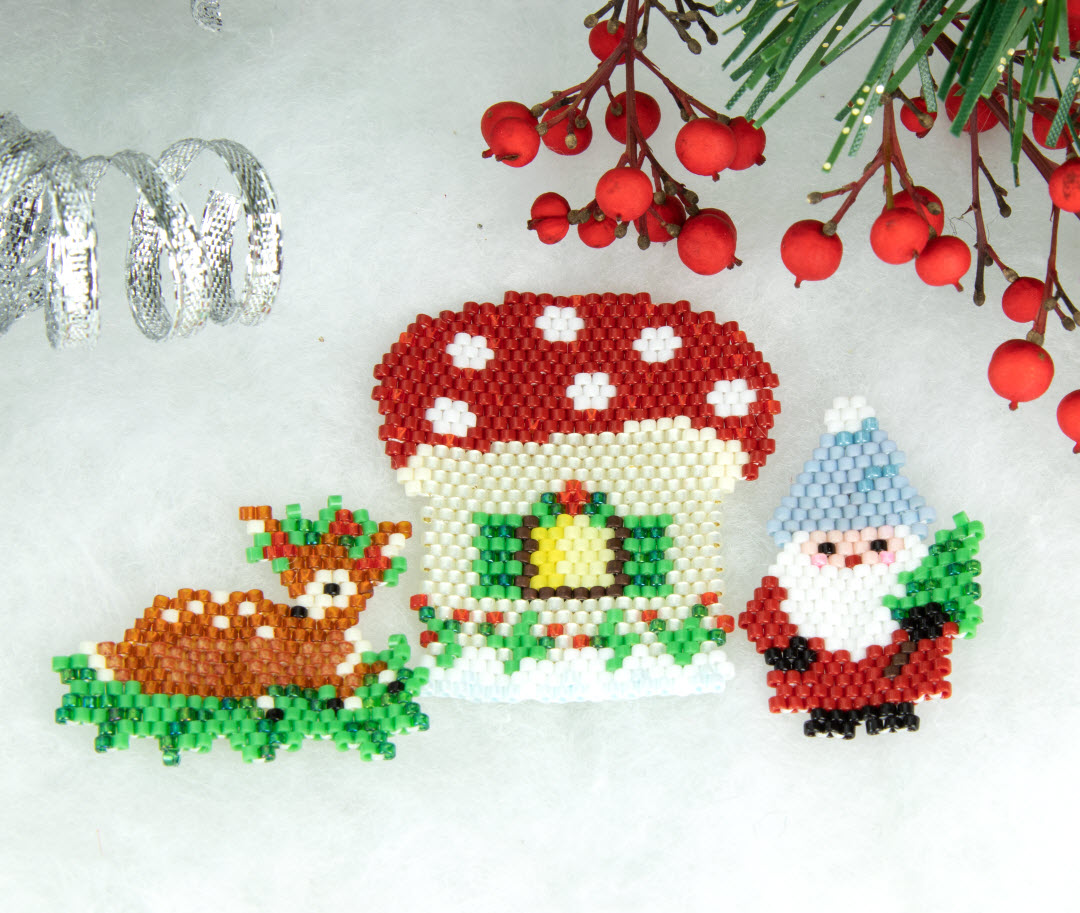 Now that you're inspired to start beading for the holidays, we want to give away one of our kits! We're giving away the Artbeads Fawn, Gnome, and Their Home Brick Stitch Jewelry Kit to one lucky winner. To enter for your chance to win, just follow the prompts below and make sure to leave a comment in the comments section below with your favorite kind of Christmas jewelry to make. Remember, if you need to brush up on your brick stitching skills, we have a helpful PDF Diagram. 
a Rafflecopter giveaway
We'll pick a winner on July 18th, 2019. Good luck! If you're still looking for design inspiration, check out our blog post all about winter color palettes for jewelry-making and don't forget to subscribe to our YouTube channel so you'll always know when a new Artbeads Cafe episode is out. Have fun coming up with your holiday style!