Czech glass beads are beautiful options for your jewelry designs and are available in an endless variety of shapes, styles, and colors. The Czech Republic has long been one of the leading producers of beads in the world. We're diving into the history of how Czech glass beads came to be as incredible as they are today. Make sure to read to the end to find out how you can win a beautiful selection of Czech glass beads during our giveaway.¬
The Early Years – 8th-16th Centuries
The area where Czech glass beads are now produced was once known as Bohemia. Evidence of glass bead-making has been found in this area as far back as the 8th and 9th centuries. Celts living in the area were quite skilled at glass making. The glass beads from this era were often found in tombs.¬
Glass was being produced in the 12th and 13th centuries, as well. Records show orders from abbeys in the area for glass images (most likely mosaics or stained glass) from local factories. Documents from this time period even show orders and levied taxes on glass. Glass factories in the Southwestern part of Bohemia were making beads, specifically rosaries.¬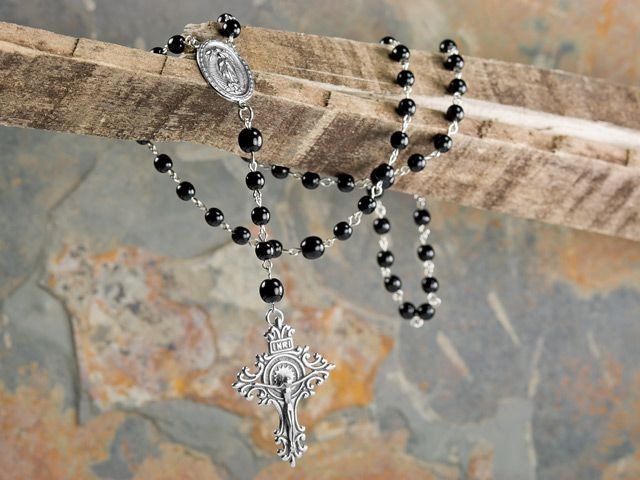 Why would Bohemia have such a long tradition of glass making? For one, the area was perfect for glass-making. There was an abundance of good quartz in the mountains to grind down and use for the silica base of glass; cheap labor could be found in plenty; the plethora of forested land meant plenty of wood to burn to produce the high heat needed for the furnaces (the ashes of which could then be used in making potash, an essential ingredient in Czech glass); the numerous streams in the region could also provide water power. Thus, glass making became more and more of a tradition and an industry as the years went on.¬
It wasn't until the 16th century, around the 1550s, that glass bead-making became more of a major industry. Beaded costume jewelry became fashionable at this time, mainly around the towns of Jablonec, Stanovsko, and Bedrichov.¬† At this time, Bohemia saw a boom in cottage industries making beads for larger glass jewelry factories.¬
Bead Production and Industrial Expansion – The 18th and 19th Centuries
The 18th century was really the beginning of serious bead production. By 1700, Bohemia was known for its glass production, but mostly it was glassware (think vases and cups). Production of glass beads ramped up when stone cutters started to worry about the competition Venetian beads were giving them. Research into the secrets of Venetian glass beads led to the creation of a glass mixture that closely resembled garnets. After this discovery, more inventions essential to the bead-making industry were created, like canes (rods of glass) and pressing tongs.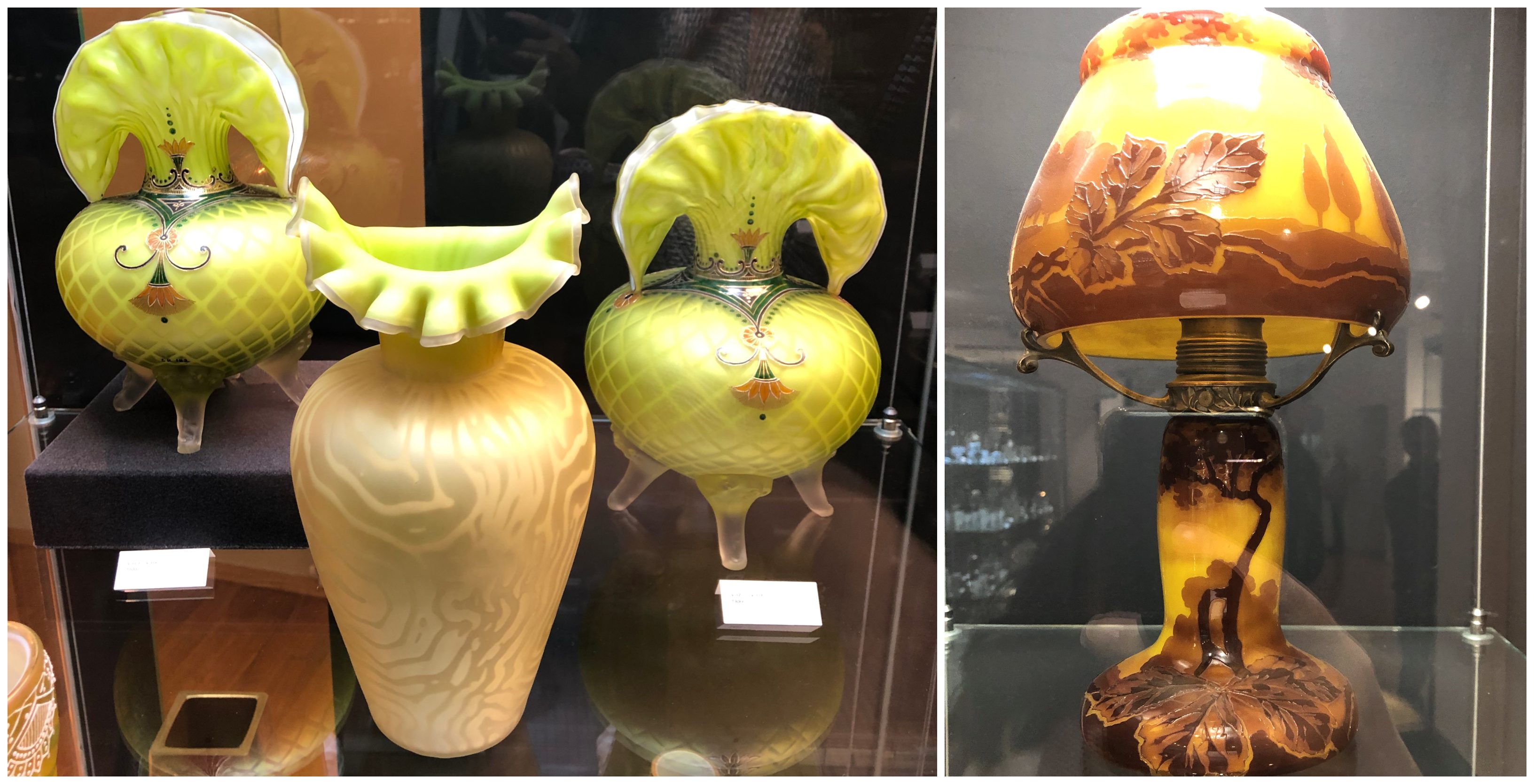 The industrial expansion of the 19th century led to even more of a boom in glass bead production. By this time, thousands of people were employed in Bohemian glass works and coal was replacing wood as a more economical fuel source. Railroad expansion also made transportation easier. This time also brought improved pressing methods and other new processes. Glass could be blown into molds, a machine was patented that could press beads and buttons, and mandrel pressing also became a new process. A die machine was also invented at this time. These new methods, inventions, and processes allowed mass production and Bohemia turned out more beads at a lower cost. The region was exporting millions and millions of beads a year.
This is also the time when more complex bead shapes, colors, and finishes could be made. Patterned canes with elaborate colors made beads of the same shape look different from each other. The result was the start of amazing glass creations like the Aurora Borealis (AB) finish, fire-polished beads, Picasso beads, and flower beads.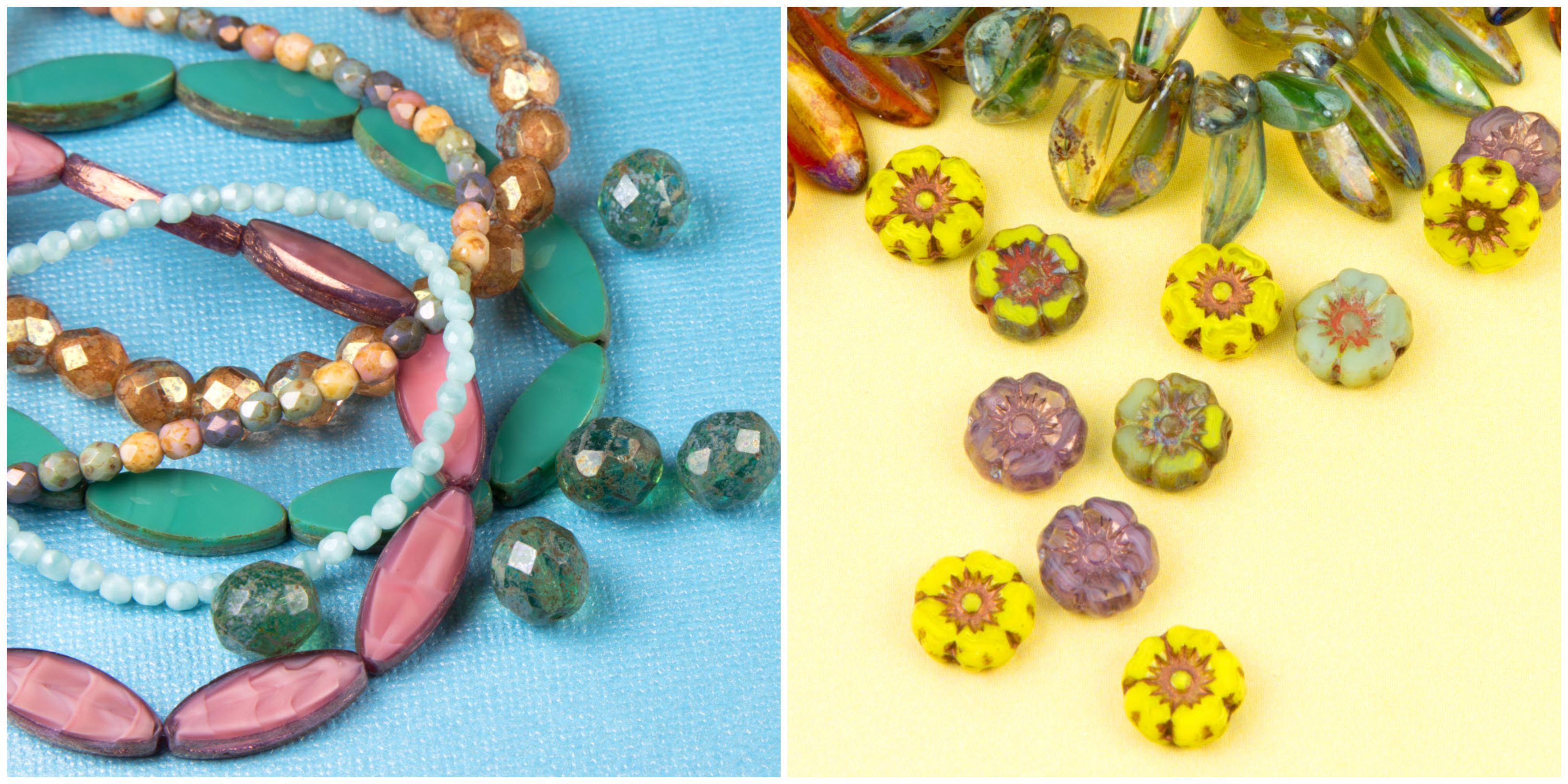 The bead industry was booming, but it was still an at-home, cottage industry effort. The making of most beads was carried on in homes where small wood furnaces provided heat to melt the canes made by the large manufacturers. After heating, the canes would be pinched off with tongs, drawn out and put into molds. The worker then pressed a bead shape, removed it from the mold and then warmed it in a pot by the fire, where it would slowly cool. After cooling, the mold marks were ground down and the bead would be polished on a rotating wooden disc, often powered by water from an adjacent stream. Small beads might also be fire-polished (re-fired to create shinier facets).
This time period also saw the rise of "Sample Men". These men were a result of the competition between bead makers in Bohemia and Venice. These men searched for new designs to come up with ideas for new beads. It involved travelling all over the world and gathering information on the style of beads in demand. These Sample Men went so far as Africa, Tibet, and Japan.
With their travels, bead demand grew and production increased. Glass makers' schools were set up in the region at different locations. Many glass schools founded in the 1800s are still functioning today. Jablonec also emerged at this time as the capital of bead and jewelry production in Bohemia.¬†In fact, one of the most important sources of information on the beads produced by the Bohemian/Czech industry is the collection of the Museum of Glass and Costume Jewelry in Jablonec. ¬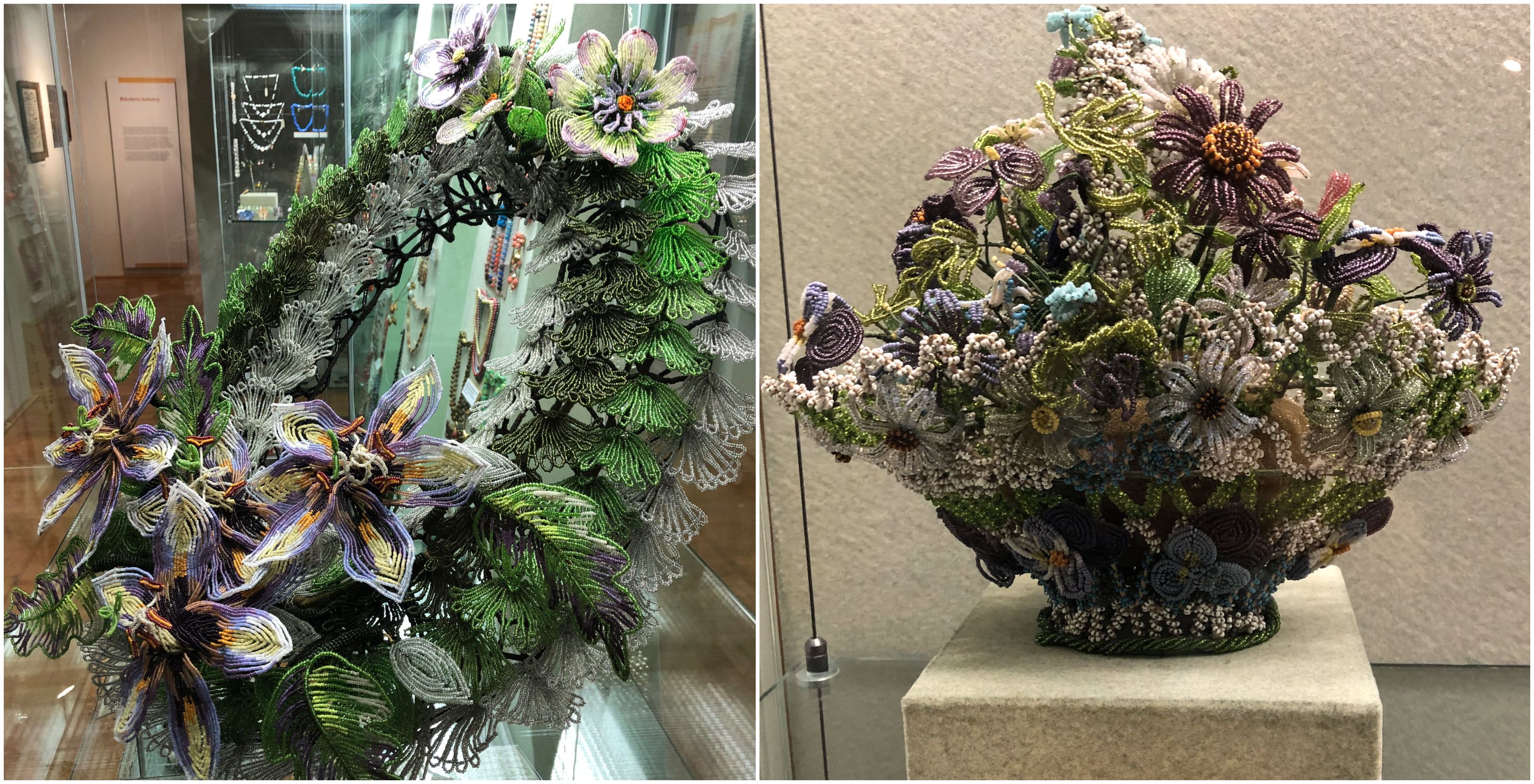 Setbacks and Revival – The 20th Century and Now
As the world moved into the 20th century, World War I seriously hurt the industry. When the war ended, a new nation was created: Czechoslovakia, of which Bohemia became a part. However, bead production was still at a peak. In the 1920s, millions of tons of glass were being exported.¬
When the depression hit, Jablonec and other bead producers were hit hard. World War II followed, this time with Czechoslovakia at the center of it all. When Eastern Europe adopted Communism, the industry changed. All glass works and glass houses were nationalized in the late 1940s and the industry was allowed to decline.
Then, in 1958, the decision to let the industry decline was reversed and bead making was revived. The value of beads, costume jewelry, and other glass products was recognized once more, and the export of these goods was encouraged. At this time, huge nationalized factories were built.¬
Although Czech bead making suffered setbacks during the two World Wars, The Great Depression, and Communist rule, the late 1980s brought the end of Communist control. Czechoslovakia split into two countries, the Czech Republic and Slovakia. The region that was once North Bohemia was now part of the Czech Republic. The bead making industry revived. This time saw a return to small scale production with individuals supplying local factories. Machine methods very similar to the ones used in the 19th century emerged, but with improved technology. Jablonec, where the earliest industries began, is still the center of the Czech bead industry.¬
Recently, the historic cottage style of bead making has been once again hit hard by the emergence of large scale producers and direct competition from India, China, and Japan. It's hard to say where the future of Czech glass lies, but we do know we still have beautiful Czech glass beads made with techniques passed down and refined from all those centuries ago in Bohemia. You can explore the many beautiful shapes and colors we sell here. You can learn more about the art of making Czech glass beads in today's industry with Lenka from Raven's Journey in this Artbeads Cafe episode.¬
A Czech Glass Giveaway
Now that you've learned more about the history of Czech glass, we want to give away some of these beautiful beads. You could win some beautiful Raven's Journey goddess beads (an ancient symbol full of history), flowers, and coin beads, along with CzechMates QuadraTile and Quadralentil Beads, Ginkgo Leaf Beads, teardrop beads, classic rounds, daggers, fire-polished beads, and more. To enter for your chance to win, just follow the prompts below. You'll have until the night of January 29th, 2020 to enter. Good luck!¬
a Rafflecopter giveaway
Sources: Beadresearch.org provides fascinating and helpful insight into the many different histories of beads around the world. You can learn more about Czech glass beads in this PDF from their publications of the Center for Bead Research. You can also learn more about the history of Czech glass and see beautiful jewelry designs made with Czech glass beads in this blog post from Shadow Dog Designs.¬