Two-hole and four-hole beads allow for all kinds of jewelry-making possibilities. Whether you are interested in dimensional bead weaving or want to challenge yourself in your stringing projects, these beads bring unique style to designs. We'll show you all of the different kinds of multi-hole beads available at Artbeads.com, along with jewelry inspiration from our Design Studio. Don't forget to enter our giveaway to win some of our favorite two-hole and four-hole beads.
SuperDuo & MiniDuo Beads
SuperDuo Beads are two-hole beads that feature a pinched oval shape. When used together, they nest up beautifully, allowing for all kinds of bead weaving possibilities. They fill in gaps nicely, join up well, and can even help you create floral patterns in designs. Use them in multi-strand designs for a sweet, colorful accent. Combine these two-hole beads with other Czech glass beads and seed beads for a beaded masterpiece. You can also use MiniDuo Beads. They are the same shape as SuperDuos, just smaller in size.
CzechMates System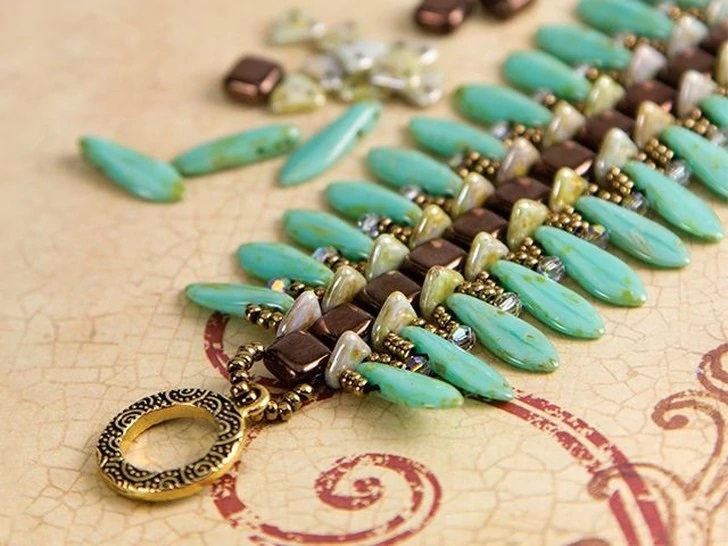 CzechMates offers two-hole and four-hole Czech glass bead options. These beads work together beautifully, giving you textural and sculptural possibilities. Designed by Nichole Starman, CzechMates options include Brick, Lentil, Tile, QuadraTile, QuadraLentil, Bar, Dagger, Triangle, Crescent Beads, and more. They are popular choices for bead weaving and stringing projects, particularly when paired with seed beads.
Par Puca System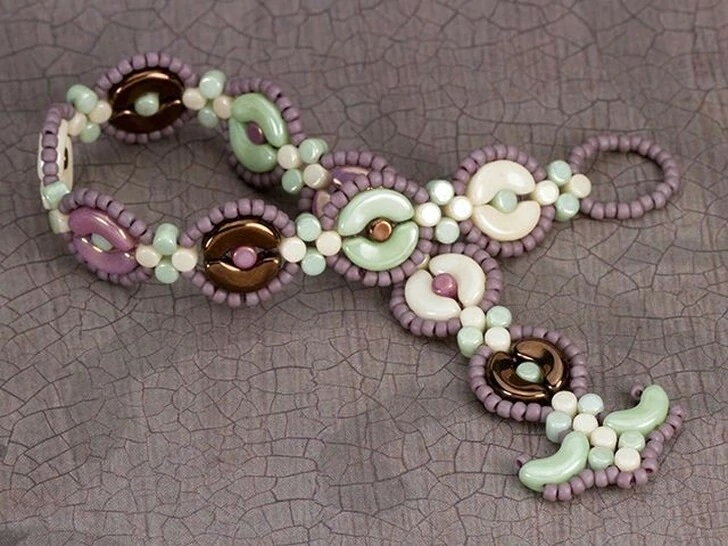 The Par Puca system includes crescent-shaped Arcos par Puca and triangle-shaped Kheops par Puca beads. The Arcos par Puca beads are three-hole beads, while the Kheops are two-hole beads. They really open up design possibilities in designs. They are sure to add geometric flair to any jewelry-making project.
Tila System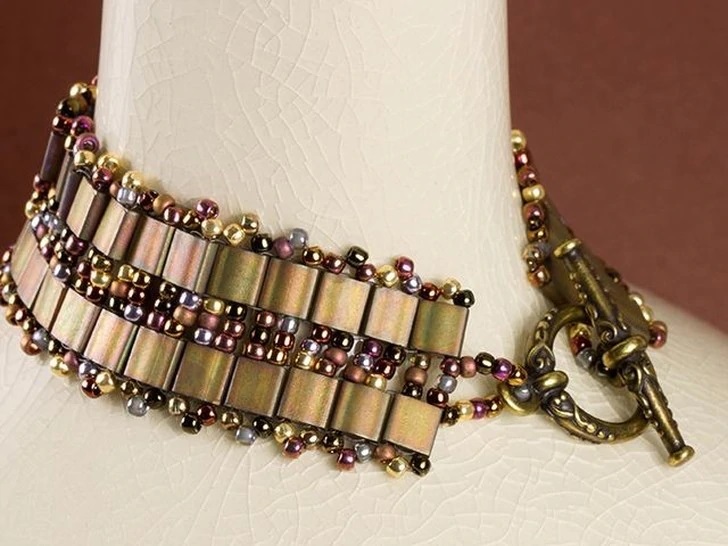 Miyuki Tila and Half Tila Beads are square and rectangle-shaped glass seed beads. They feature two stringing holes and work together to add contemporary flair to bead weaving and stringing designs alike. These lightweight Japanese seed beads are consistent in size and shape, so they are a dream to work with.
Candy Beads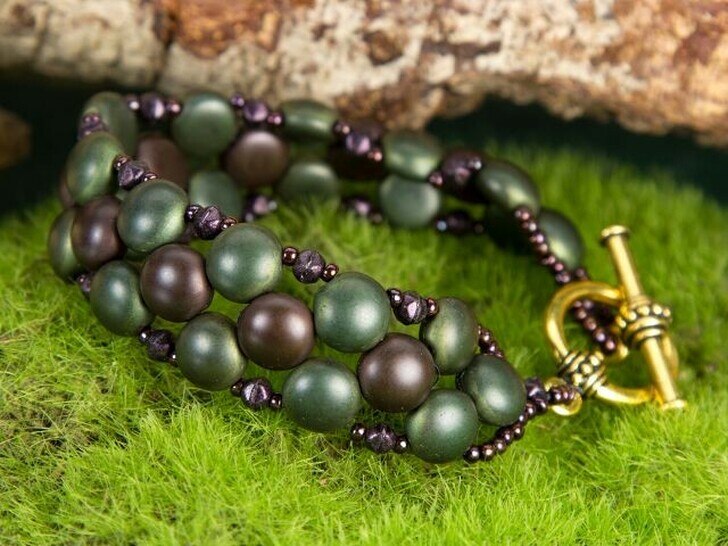 These Czech glass Candy Beads feature a round shape with two stringing holes. They are slightly domed on the front and flat on the back, so they will lay nicely in your designs. They're an excellent option for bead weaving, stringing, and other projects. They pair well with seed beads and other Czech glass beauties. Add these beads to your designs for a deliciously sweet look.
Carrier Beads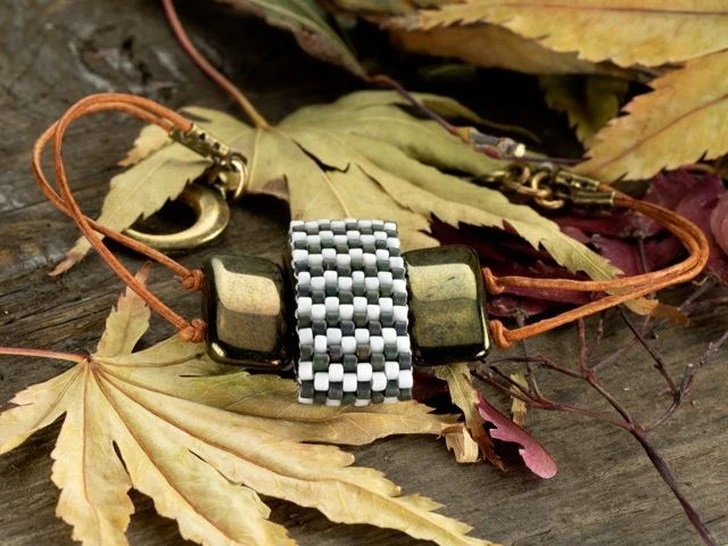 Carrier Beads are rectangular Czech glass beads with two stringing holes. They come in two sizes and are perfect for showcasing on their own or you can decorate them with peyote stitch bands that fit around the unique shape of the beads wonderfully. They are a great match for not only seed beads, but other Czech glass shapes, leather, and more.
DiamonDuo & GemDuo Beads
DiamonDuo and GemDuo beads are both two-hole diamond-shaped beads with a dimensional front and a flat back. While both beads feature a domed front, the GemDuo beads feature a slightly more rounded faceting on the front. Use these beads together for exciting results, as well as pairing them with seed beads and other shapes.┬
Es-O Mini Beads
Es-O Mini Beads are circular in shape with a pinched dimension at the center and two stringing holes. When used in bead weaving, the edges of these beads create a petal-like accent. It's fun to create eye-catching patterns with these versatile beads. They are small in size, so you can easily use them with seed beads and other Czech glass elements.
Ginkgo Beads
Matubo Ginkgo Leaf Beads are a great two-hole bead option to design with. These Czech glass beads feature a unique shape inspired by the natural beauty of the ginkgo leaf. With two stringing holes, this bead gives you endless design possibilities. Nest the shapes together in designs for a scale-like pattern, or combine them with other fun shapes. No matter how you use them, these beads will get your creative juices flowing.
Honeycomb Beads
For unforgettable jewelry style, try Honeycomb Beads. These Czech glass beads feature a six-sided hexagon shape and two stringing holes. These beads work really well together because the sides nest up nicely with each other. Try these beads in multi-strand ideas for a truly outstanding style. They also make great additions to bead weaving patterns.
Silky Diamond Beads
Silky Diamond Beads are a stand-out for jewelry designs. These beads feature a diamond shape with two stringing holes running through the shape. The front of each bead displays a grooved surface, which will add texture to your projects. The back of each bead is flat, so they will lay nicely in designs. The unique shape works well with other Czech glass shapes and seed beads.┬
Other Multi-Hole Beads and Compatible Findings
If you've been inspired by the multi-hole beads featured here, make sure to check out the other shapes we offer, like Chilli Beads, Rulla Beads, Pyramids, Piggy Beads, and NIB-BIT Beads. If you want to explore three-hole options, go for Cali Beads and Emma Beads. Don't forget that we also offer the perfect findings to use with these unique beads, like Cymbal findings. These metal findings come in a variety of finishes and are made to work with unique shapes like Tila Beads, SuperDuos, and GemDuos.┬
Enter Our Giveaway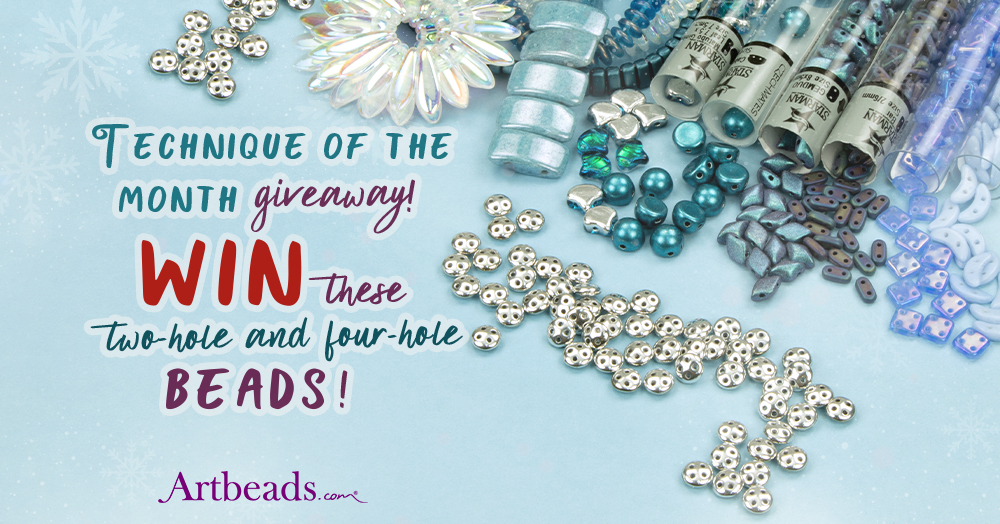 You can win two-hole and four-hole beads in fabulous winter colors during our Giveaway! One lucky winner will receive Carrier Beads, Daggers, various CzechMates beads, and Ginkgo Leaf Beads. Click here to enter for your chance to win.┬