With the school year winding down, don't forget to say thank you to the teacher! It takes a lot of energy to teach—and it takes a lot more to teach well. Show your appreciation with a handmade gift that they can enjoy in the summer, and let your little ones help pick the gift. Here are some fun ideas to do that you can start on now before June arrives.
Gift Basket
Teachers get summers off from the classroom, but more often than not they're still working on school projects for part of their vacation. You and your kid can think of a creative care package that the teacher would enjoy in the summer, whenever they get a moment to take a break. Find out what the teacher likes and play off that.
Is your kid's teacher an avid gardener? If she has helped your student grow, put together this cute planter box gift basket! You can use a variety of beads, chain and other components to personalize it for her. Decorate a watering can, flower pot and planter box with beads to fit the teacher's style, and put together a nice bracelet for her to wear on summer vacation. See what we put in our garden gift basket for inspiration.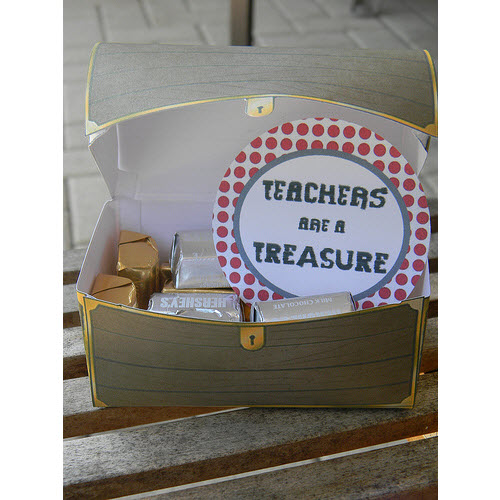 Photo Source: Lizard and Ladybug Blog.
If you're not sure of teacher's hobbies, you can always give her a sweet treat. Find some chocolate wrapped in gold and silver (you could even use gold and silver chocolate coins!) and place them inside a cutout treasure chest. It's fun, fast and thoughtful. You could even add a simple necklace with a sterling silver charm that she could wear every day—like an apple strung on some thin chain. Add a fancy touch with a handmade jewelry design using school colors, mascot charms or letter charms to spell out her name. This would be a nice surprise to top off a box of chocolate!
Gifts that send a message
The simplest gestures can also be some of the most kind. Have your child write a letter to the teacher, thanking him for a wonderful year and expressing how much your kid learned. The best recognition for being a teacher comes from the student, so make an extra copy to put in the principal's file, too. Use cardstock for the letter and add some colorful flatbacks so it can catch everyone's eye when he posts it on his wall. The bookmark idea featured above would be a sweet and simple gift idea as well. Find your favorite pattern to follow or use a transfer sheet like we did.

Photo Source: The Humane Society of the United States.
Make a donation in the teacher's name related to their subject or to reflect an interest or hobby. If he has a pet, give to the local shelter or adopt-a-pet program. If she teaches science, donate to an environmental study. Name a star after her, too! You could even donate to her—give her a gift card to an office supply store so she's ready for next year. Let your child help you determine where to make a donation so they feel like part of the project, and teach them how to think about others.
Even though their students are a little older, middle school and high school teachers appreciate a thank-you too. Have your teen (or pre-teen) sit down with you to complete any of these projects. Think of it as an opportunity to spend some time with your teen, a chance to talk and find out what's going on before they cruise off with friends. Any teacher, and any student, at any grade level, deserves a small thanks. Take the time you have before school ends to try one of these ideas at home, and thank the person who's helping to mold the minds of our future.
As the wife of a high school teacher, I have observed the power behind a simple token of appreciation. My go-getter guy thought for sure he would get the rookie teacher of the year award in his district, but it ended up going to someone else. He was pretty bummed. A few days later he found a note in the trash can in his classroom. It was a crumpled up piece of notebook paper written by one of his students, addressed to the principal. The student wrote about how my husband was one of the best teachers at the school, and how he was always there to stay after and listen to their problems. This student thought my husband was getting fired since he didn't get the award, and had attempted to write a letter to prevent it. Reading this made my husband feel so good that he forgot all about losing out on the award. That letter is now on our fridge, and it means more to him than any plaque or certificate ever could.
-Marissa