Summer is slowly coming to a close, as much as all you summer lovers out there cling to your pool floaties and iced coffees! Once the weather turns, it's time for a wardrobe update, complete with scarves, boots, and fabulous accessories. If you're stumped as to what colors you should incorporate into your fall wardrobe, have no fear! Pantone has you covered with their Fashion Color Report for Fall 2016.
The Fall 2016 color palette is led by the blue family, yet finds a firm anchor with earth tones. Exuberant pops of vibrant color also appear, making fall fashion just as exciting as summer (Hot latte sippers and pumpkin patch purveyors rejoice!). Let's take a look at the top 10 colors for the season, along with Swarovski beads and jewelry ideas we think are a perfect match to each color.
Riverside
Riverside is a new blue shade that takes precedence in fall fashion. It's a cool and calming tone that also offers a strong and stable look to your style. You'll love the subtle vibrancy and sophistication. We think Swarovski's Capri Blue and Lapis beads are a great option for this new shade! Check out Artbeads Designer Cynthia's Misty Fjords bracelet for a jewelry design dominated by this blue beauty.
Airy Blue
Another lovely blue hue, Airy Blue has a lofty nature, which evokes feelings of lightness and freedom. It's also a great complement to Serenity, a Pantone Color of the Year for 2016. This shade offers a fresh approach to your style! Try Swarovski's Air Blue Opal for a heavenly look. Light Blue crystal pearls also offer up the perfect touch of Airy Blue color. Be sure to take a look at our Glacial Wonder bracelet – it features blue lace agate gemstone beads that are a great way to rock this shade in the fall!
Sharkskin
No one will be running from this Sharkskin shade this season! This edgy color still manages to remain neutral, so you can pair it with almost any fall color, from the very bright to the subtle and muted. The Swarovski Crystal Comet Argent Light effect is a wonderful blend of metallic silver and clear crystal that will make a nice representation of this new color. Also try Grey crystal pearls as an homage to the sleek sheen of Sharkskin. The beads in our Steel Sky bracelet are the perfect match for this color, especially the pointed pyramid hex beads!
Aurora Red
A classic punch of red is always a great choice in any season. This warm and sensual version of red is exciting and dynamic, as it is immediately pleasing to the eye and breeds unmistakable confidence. Bring the warm and bold call of Aurora Red to your jewelry designs with Swarovski's Hyacinth and Red Coral. Our Papillon earrings are a great example of how accents of flashy red can really warm up a piece.
Warm Taupe
This hearty, pleasing, and approachable neutral is such a treat to pair with any of the top 10 shades this season. This organic and grounded hue makes for a timeless choice in any look – we're even seeing it as a popular choice for bridesmaid's dresses! Light Smoked Topaz and Bronze Swarovski beads are both a wonderful complement to this color. Take a look at Katie Hacker's Continuous Style necklace for Warm Taupe inspiration. It blends the timeless look of knotted pearls with fashionable and equally timeless neutral hues like this one.
Dusty Cedar
We're loving this warm and welcoming color for fall, as it's a great way to add pinks into your fall and winter wardrobe. It's also a lovely nod to Color of the Year Rose Quartz. We think Swarovski's Padparadscha and Rose Peach colors are a beautiful complement to this hue. Artbeads Designer Cheri's Alexandria bracelet is such a perfect look for fall style! It features Dusty Cedar shades along with sweet golden browns.
Lush Meadow
Here's another exciting hue for your fall wardrobe! It brings to mind fresh botanicals and foliage, so it will keep your style alive even as leaves fall from every tree. This rich and elegant color has a panache and a brightness that elevates it from more natural greens, giving it a more glamorous feel. Emerald bicones are a great choice for this color and Scarabaeus Green pearls have just as much depth as this hue. Cheri's Lady Macbeth crochet necklace combines rich green thread with Scarabaeus Green pearls for a lush look to match this fabulous color!
Spicy Mustard
This exotic color bounces elegantly off the other colors in the palette. Like Aurora Red, it adds another splash of uplifting vibrancy – something much needed in the colder months of fall! You'll love adding this spicy, zesty yellow to your looks for an unexpected and unusual twist. Swarovski's Topaz and Bright Gold beads are a great way to incorporate the hue into your jewelry designs. As our Desert Dandelion earrings show, just a dash of Spicy Mustard really makes a splash!
Potter's Clay
Oh how we love the warm look of Potter's Clay! This neutral earth tone makes for a strong foundation for fall style, as it's a color often found in autumn leaves. Layer it into your style for that ultimate fall feeling. Combine Crystal Copper and Bordeaux beads for a look that speaks to this hue. Our Terracotta Dawn bracelet showcases SuperDuos and seed beads in the perfect colors for this trend.
Bodacious
Bodacious is an unexpected treat in fall that can be used with pinks and reds for a vibrant look. This lovely color will help you turn fashion accents into fashion statements! We love Swarovski's Amethyst and Powder Rose for complementing this shade. Check out our Princess Twist headband for an easy way to add Bodacious color to your style.
There you have it, Pantone's top 10 colors for this upcoming fall season. If you'd like a handy reference of our Swarovski picks to go along with these colors, check out this infographic: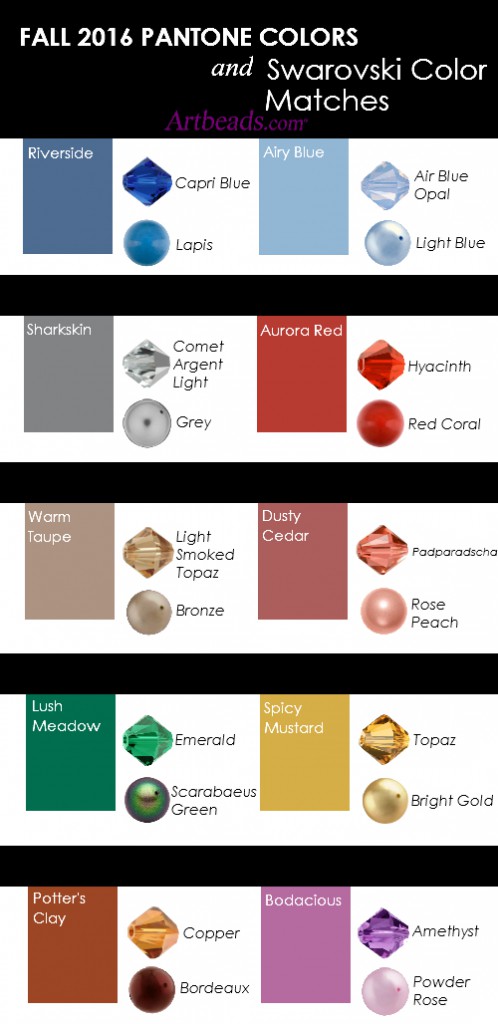 We can't wait to start playing with these colors in our designs. So, what colors will be using in your fall jewelry designs? Which of these are your favorites? Tell us in the comments below or share on our Facebook page. We always love seeing what you're making, so feel free to add a picture!
Save
Save
Save
Save